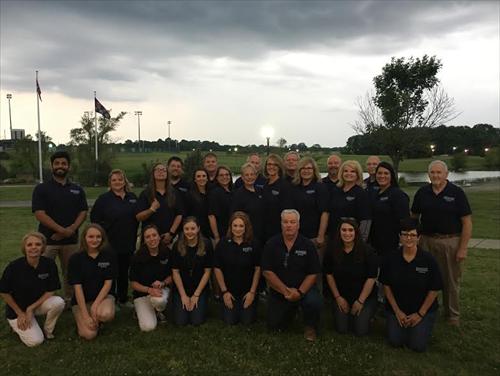 Martin, Tenn.–The Martin Police Department recently graduated the 28th Session of the Citizen's Police Academy. Members of the Martin community received their diplomas in a special ceremony held at the Martin Recreational Complex.
The Citizen's Police Academy is a chance for citizens that live or work in Martin to get a first-hand view of the operations of the Martin Police Department. After graduating, citizens have a better understanding of what police officers face every day. The class met one night a week for ten weeks. Topics of instruction included use of force, undercover drug operations, crime scene investigation, DUI enforcement, criminal law, firearms, and other areas.
Also during the ten week class the participants were required to ride with a Martin Police officer at least two times during the course of the class. Over 500 citizens have graduated from the Citizen's Police Academy program since its inception in 1993.
In photo: Front Row:  Debra Stringer, Lyndsey VanCleave, Raini George, Alexis Maher, Katerina Bradberry, Kevin Rogers, Tiffany Owens & DeAnna Chappell.
Standing in back row:  Faisal Alanazi, Amy Bynum, Ashley Bynum, Barry Tuck, Kelly Wilson, Josh Wilson, Vickie Hazlewood, Bethany Smith, Tommy Mount, Emily Perry, Larry Snider, Claire Wade, Billy Fuqua, Landy Fuqua, James Ketterman, Shelia Spencer & Gene Foster.