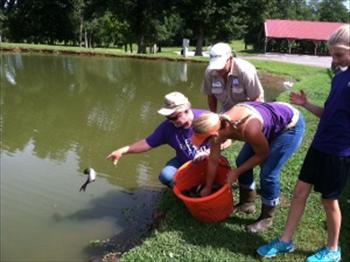 McKenzie, Tenn.–Calling all youngsters who want to catch fish and win prizes at the same time.
The 17th Annual Steve McCadams "Casting For A Cure" Kids Fishing Rodeo returns to McKenzie's City Park Lake on Saturday, June 10 for a fun filled morning where even little fish bring on big smiles.
Girls and boys ages 15 and under are invited to participate in the FREE event which will benefit the American Cancer Society. Each year McCadams teams up with the Tennessee Wildlife Resources Agency, McKenzie City Parks and Recreation, Relay For Life Volunteers and others to host the big event and it's fast approaching.
More than 4,500 kids from five states have been introduced to the great sport of fishing since the rodeo's conception.
Special plaques and bicycles will be awarded to kids catching the most and biggest fish in four separate age brackets. Age brackets will be 5 and under, 6-9, 11-12, and 13-15 years of age.
Participants are asked to arrive early and check-in at the registration pavilion where each contestant will receive a bag of goodies. Onsite registration will be from 8-9 a.m. with the actual competition taking place from 9-11 a.m.
Loaner rods will be available courtesy of TWRA so every kid will have a chance to fish. However, kids are encouraged to bring their own bait and tackle. Concessions will be available courtesy of Carroll County Relay For Life teams.
The event will coincide with National Fishing Week across America. And, June 10th is Free Fishing Day in Tennessee.
McKenzie's City Park Lake is located at 570 Como Street next to Bethel University football stadium. For additional information email stevemc@charter.net or call 731-642-0360.
To support the event or perhaps honor someone special send your tax deductible donation to: Steve McCadams "Casting For A Cure" Kids Fishing Rodeo, 655 Anderson Drive, Paris, TN 38242.