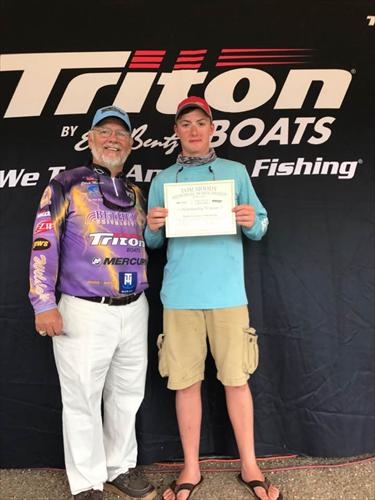 Photo: Bethel Coach Garry Mason with Bradon Smith. (Photo courtesy of Garry Mason).
Buchanan, Tenn.-A young Houston County man won the 2017 Tom Moody Scholarship this weekend at the Triton Boat Owners Tournament held at Paris Landing. Bradon Smith is from Erin and will become a Bethel University Bass Team member in the fall of 2019. Smith won a $5,000 per year scholarship.
Bethel Bass Team Coach Garry Mason said, "Way to go, Bradon. And thanks to Triton and Bethel for the opportunity for this young man."
Winners of the Triton Boat Owners' Tournament was the team of Gary Singleton and Jonathon Caldwell of Jackson. This is their second Triton Owners' Tournament win in three years. They won with a catch of 33.12 pounds.
Over 800 anglers in 400 boats took part in the tournament, which was the 18thtournament for the Triton Owners' organization.