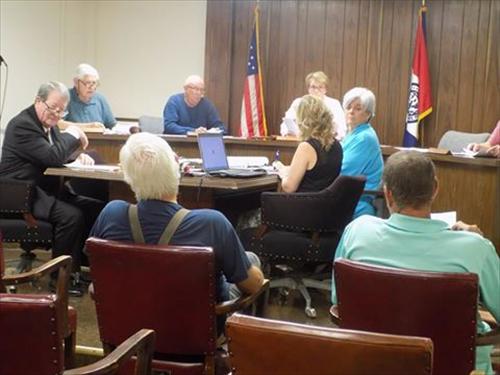 By Shannon McFarlin WENK/WTPR News Director (Photo: McFarlin)
Paris, Tenn.—"The Shed" will soon have a brand new—and much larger—home for its good works.
"The Shed" is the brainchild of Henry County Sheriff's Deputy Michelle Brewer and provides clothes, shoes, and household products for families in need. The items are provided no questions asked and without any paperwork or red tape. "The Shed" was featured in articles published by WENK/WTPR and Paris! Magazine.
At Monday's special meeting of the Paris Municipal Regional Planning Commission, the panel approved the Sheriff's Office's request to build a new 50 foot by 30 foot building to be constructed on the east side of the sheriff's property on Forrest Heights Road.
It will be constructed on an existing asphalted area.
"The Shed" is operated with dozens of volunteers and donations and has outgrown the small shed that was donated for its use.
Ground will be broken for the project on June 6. Brewer said Sunday that the building was donated by person who wanted to remain anonymous. She said she appreciates all the donations and help she has received from the public at "The Shed".
The planning commission approved a site plan to allow additional parking for the Ole West Steak House at the corner of East Wood St. and Marilyn Avenue. The Ole West Steak House will be opened there as soon as remodeling of the building is completed.
The building originally housed Foster's drive-through, which did not require as much parking as a sit-down restaurant, according to Economic Development Director Jennifer Morris. The site plan calls for 20 additional parking spaces to be located on the south end of the lot on Marilyn Ave.
Morris said that lot is already zoned commercial. The site plan was approved contingent on engineers approving the questions from the city staff including a new curb being installed where the original driveway is being removed, proof of ownership for the new parking lot site, and screening for the new lot being placed.
In other business, the panel also approved a site plan for the planned Henry County Board of Education Bus Garage at Barton Field. The new site plan is amended from the one approved earlier this year and shows a decrease from what was originally requested.
At a meeting of the Board of Zoning Appeals held right before the planning commission, a variance for 410 Hooper Street was approved. The variance will allow a doublewide being placed their cross-ways instead of straight across because it is a narrow lot. The variance was requested by Matthew Goetz, who will be living there and was present at the meeting.