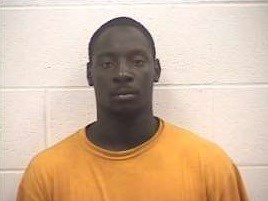 By Shannon McFarlin WENK/WTPR News Director
Fulton, Ky.—An inmate who escaped from the Fulton County Detention Center possibly broke into a nearby gas station shortly after his escape. The Kentucky State Police is seeking the public's help in locating Reggie Rankins, who escaped Saturday night.
According to the press release from the KSP, Fulton County Jail officials said Rankins was present at the 9 p.m. head count at the jail.
Early this morning, around 1:20 a.m. Fulton County Dispatch received a call that a gas station down the street from the jail was broken into.
An emergency head count was performed at the jail at 1:30 a.m. and Rankins was not present.
Rankins is described as a 23 year old black male, 5'10" tall, 180 pounds, black hair, brown eyes, dark brown complexion and medium build. Unknown clothing description and unknown direction of travel at this time.
Rankins was serving time for burglary 2nd degree and burglary 3rd degree.
Trooper Scott DeShields is investigating the escape. If anyone has any contact with this subject or information contact the Kentucky State Police Post 1 Mayfield at 1-800- 222-5555.