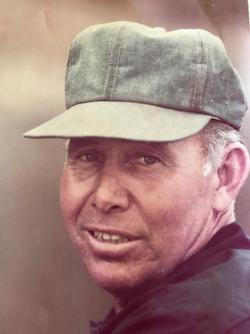 Paris, Tenn.–Johnny Gibson–the man known to many in Henry County as "The Old Guide"–died at his home in Springville today at the age of 93.
A celebration of life to honor Johnny will be planned later. The family requests that in lieu of food and flowers, donations be made to the charity of the donor's choice in Johnny's memory. Arrangements are being made at McEvoy's Funeral Home.
Gibson was a long-time hunting and fishing guide in Henry County and a former game warden. During his years as a guide, Johnny had the privilege of guiding prominent politicians and celebrities, including former Vice Presidents Albert Gore Jr. and Walter Mondale; former Tennessee Governors Ned McWherter, Buford Ellington, Ray Blanton and Lamar Alexander; and country singers Ricky Shelton, Hank Williams Jr., Grandpa Jones and Little Jimmy Dickens.
Johnny moved to Paris at a young age with his family to their farm on Elizabeth St. He was one year shy of graduating from Grove High School when he joined the U.S. Marine Corps July 12, 1941, at the age of 17 to serve in World War II.
Johnny served in the 1st Marine Division for 4 ½ years, where he spent most of his time in the South Pacific, first landing at Guadalcanal, Solomon Islands and later fighting in the Battle of Peleliu.
After the war, Johnny went looking for adventure, driving with friends to Alaska in a 1944 panel truck to take a job building roads for the gold mining camps.
Upon his return from Alaska, he worked as a state game warden for 4 years. An avid outdoorsman, Johnny's next career became the one he was most known for, and the one that earned him the nickname "The Old Guide". He worked as a hunting and fishing guide, first independently and later as an employee of the The Tennessean newspaper, owned by his good friend Amon Evans.
Upon his retirement, Johnny continued to pursue his lifelong passion for the outdoors, turkey hunting into his late 80's. In 2005, he was recognized by John Tanner and the House of Representatives for his contributions to exploring and sharing the beauty of West Tennessee, and in 2006, he received the National Wild Turkey Federation Master Hunter award.
Johnny also loved growing blueberries and making blueberry wine, a pastime that he become well known for in his later years.
He was a member of Sulphur Well Church of Christ, becoming the oldest person to be baptized by preacher Randy Stephens at the church at the age of 90.
Johnny is survived by his wife of 56 years, Jane Thompson Gibson of Springville TN; his five children Johnny Wayne "Hoot" Gibson (wife Vickie), Ronnie Gibson, Ginny Jackson (husband Barry), Jeanie Oliver (husband Jimmy) and Julie Kern (husband Greg); grandchildren Jamie Gibson, Rhonda Gibson, Christie Gamlin, Justin Oliver, Nick Gibson, Marcus Gibson, Travis Gibson, Drew Domalik, Brianna Domalik and Alex Jackson; and great-grandchildren Drake Gamlin, Cole Gamlin, Maddox Oliver, Kendall Oliver and Matthew Gibson. Johnny was preceded in death by his parents Wayne Gibson and Bess Daggett Gibson.