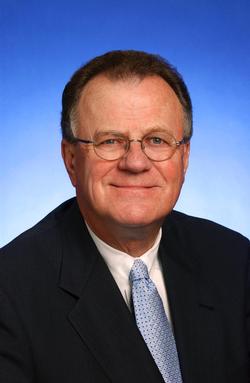 Huntingdon, Tenn.—Former State Commissioner of Labor Jim Neely, 76, of Huntingdon, Tennessee, died last week at his home. Funeral services were held Sunday at the Huntingdon First United Methodist Church. Interment was in Bethlehem Cemetery.
He began his career as a bundle boy with the Publix Shirt Corporation in Huntingdon, where he also served as a union steward with the Amalgated Clothing Workers. He served 28 years as president of the American Federation of Labor and Congress of Industrial Organizations (AFL-CIO).
Jim served as Commissioner of Labor and Workforce Development under two Governors, Ray Blanton and Phil Bredesen. As a U.S. government representative on a goodwill mission trip to Germany, he met with foreign Government leaders and members of NATO. Throughout his career he served on various federal, state, regional, and local boards and commissions. He served on state and national boards and the Huntingdon Special School District Board of Education, on which he served as chairman for many years.
In 2010 the Tennessee Career Center located in Huntingdon, Tenn., and serving multiple counties, was named for him.He graduated from Huntingdon High School,  where he was a student-athlete and attended the University of Tennessee at Martin.
He was a member of the First United Methodist Church in Huntingdon, Tennessee and a 50-year member of both the Scottish Rite, and the Al Chymia Shrine. He was the 2007 Carroll Countian of the Year and in 2010 Huntingdon's Outstanding Citizen.
He is survived his wife of 56 years, Rachel Todd Neely, his daughter, Hope Neely Turner (Michael), and his three granddaughters, Neely (16), Mary Catherine (14), and Caroline (9).
Dilday-Carter Funeral Home of Huntingdon was in charge of arrangements.