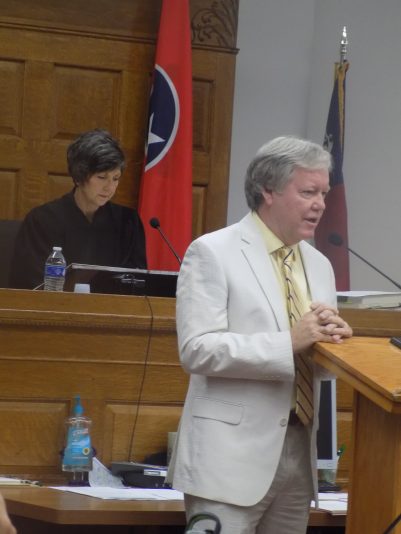 By Shannon McFarlin WENK/WTPR News Director
Paris, Tenn.—Tennessee Supreme Court Justice Roger Page opened this morning's first-ever expungement clinic in Henry County by praising the Tennessee Faith and Justice Alliance and First United Methodist Church for sponsoring the clinic and for the attorneys and local court staff who were volunteering their time to assist.
Speaking to a full house at the courthouse, Page said, "I don't need to tell all of you how important it is to keep a clean record, especially in terms of employment. I can't tell you how much I appreciate all of you who are volunteering your time here for this. People will remember you not for what you do for yourself but what you do for others."
The event is spearheaded by Assistant District Attorney Rebecca Griffey of Paris who noted that these clinics normally are not held in rural communities. At today's clinic, non-conviction misdemeanor records will be expunged at no cost and attorneys from the Tennessee Bar Association Young Lawyers organization will be available to answer questions, again at no cost.
Juvenile Court Judge Vicki Snyder said she was grateful to see all the people who had signed up for the clinic in the courthouse. "I'm glad for all of you to have an opportunity for a fresh start."
Griffey said if the event is successful, there hopefully will be others in the future in the 24th Judicial District.
Snyder thanked Circuit Court Clerk Mike Wilson and his staff for working today at the clinic, too.
Photo: Chief Justice Roger Page opens today's session, while Judge Vicki Snyder looks on. (McFarlin photo).