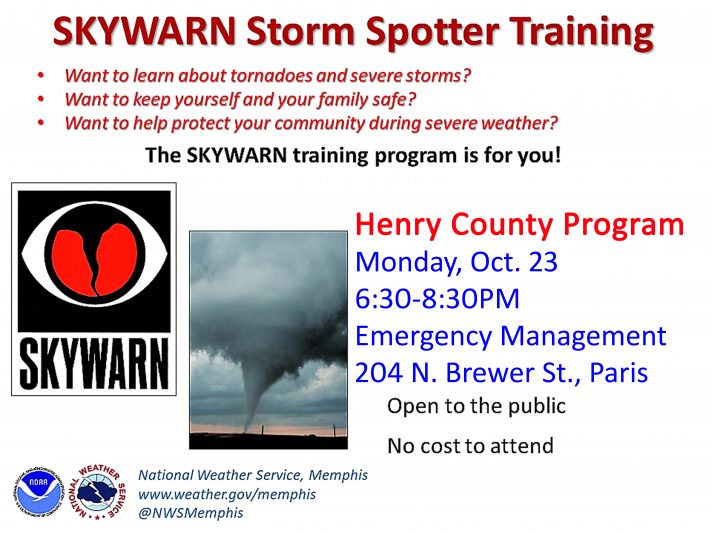 Paris, Tenn.–As part of its area-wide weather preparedness campaign, the National Weather Service in Memphis will
answer your weather-related questions at the Skywarn storm spotter training program on Monday, October 23, from 6:30 to 8:30 PM.
The free program will be in Paris at the Henry County Emergency Management Center, 204 N. Brewer St., and will be held in partnership with the National Weather Service in Memphis.
County Emergency Management Director Ron Watkins wants to invite anyone wishing to learn more about severe weather and how to best protect yourself to come and enjoy this informative course. "I am very pleased to have a meteorologist from the Memphis NOAA Weather Service Office here to present
potentially lifesaving information. Local warning capabilities such as the Sheriffs Dept/Emergency Management text alert system and the role of social media to push out warning information will be discussed."
The program will discuss thunderstorm formation, severe weather production, and features associated
with severe storms. The presentation will also review tornado formation and behavior, non-threatening
clues which may be mistaken for significant features, and safety tips to keep in mind when thunderstorms threaten. The program will discuss recommended reporting procedures and interpretation of weather radar images. The presentation will be in multimedia format, featuring numerous pictures of
storms and nearly 25 minutes of storm video clips.
The program is free and open to the public. "By coming to this program, you will learn a lot about
thunderstorms", Watkins said. "Even if you don't become an active storm spotter, you will learn about
how storms work and the visual clues you can identify when storms are in your area. We will discuss
severe weather safety tips. This will better prepare yourself and your family for the threats that storms pose".
The Henry County severe weather program is one of nearly 20 that the Memphis NWS Office will
conduct between September and early November. The National Weather Service in Memphis provides
forecasts, warnings, and weather services for 57 counties across the mid-South. For more information
on severe weather and the National Weather Service, visit the Memphis Forecast Office's website at
http://www.weather.gov/memphis.