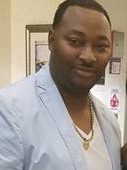 Senatobia, Mississippi—There are reports tonight that Eric Higgs, the man who was a person of interest in the shooting death of his wife in Martin last week, was killed during a shoot-out with police in Mississippi Sunday afternoon.
News outlets in Mississippi are reporting that I-55 was at a complete standstill Sunday afternoon near Senatobia after gunfire erupted. Law enforcement there had picked up a tip that Higgs was near Hernando, Mississippi.
According to news reports, he was involved in a three-car wreck and after he wiped out on the highway, he and officers exchanged gunfire.
Martin Police Assistant Chief Phillip Fuqua was not available for comment Sunday night and the dispatcher at the Martin Police Department could not confirm the reports.
After Barbara Higgs was found dead in her home last week, Martin Police issued a BOLO for law enforcement to be on the lookout for Eric Higgs.
WENK/WTPR will update as more information is available.