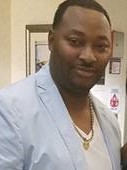 Martin, Tenn.—The Martin Police Department issued a press release this morning regarding the news reports from Mississippi that Eric Higgs, the person of interest in the murder of his wife, Barbara Higgs last week in Martin, was killed in a police shoot-out Sunday afternoon in DeSoto County.
Assistant Chief Phillip Fuqua said, "On Sunday, October 29, 2017 at approx. 3:53 pm, Martin Police Department received information that the Higgs subject may have been located in Mississippi and been involved in a police pursuit and an officer involved shooting.  Currently, the Martin Police Department is awaiting an official statement from the Mississippi Bureau of Investigation regarding the details of this incident.  When that information is obtained by the Martin Police Department, we will be releasing a written press release in regards to this situation."
Fuqua noted that the police have been actively investigating the homicide of Barbara Higgs, whose body was discovered Wednesday morning in her home.