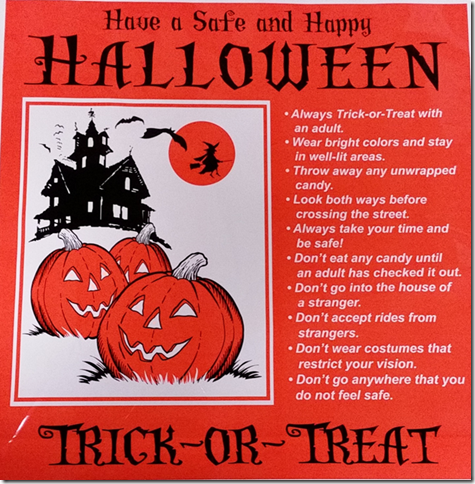 Paris, Tenn.–This year Halloween will be celebrated on Tuesday, October 31st .  Trick Or Treating will begin at dusk.  The Paris Police Department will be out in full force to help make this event as safe as possible and remind drivers to be slow and careful.
Paris Police Chief Chuck Elizondo said, "Halloween is a time of fun for parents and their children as they dress up in costumes and circulate through the neighborhoods in search of candy and the opportunity to scare an unsuspecting homeowner with their ghoulish and frightening costumes or to gather for a Halloween party for fun and games.
Others see other activities as fun. Halloween is also time for vandalism and hurtful pranks that are never funny and often illegal. The Paris Police Department will be out in support of the safe and fun side of Halloween and will be looking for those that have the wrong idea."
Elizondo issued a list of tips for safe Trick or Treating including:
Trick or Treaters
Young children should always be in the company of a responsible adult
Older children should be in a group of 2 or more. Don't trick or treat alone
Walk on sidewalks, not in the street.
If there are no sidewalks walk on the left side of the street facing traffic
Look both ways before crossing the street to check for traffic
Cross the street only at corners.
Don't hide or cross the street between parked cars.
Wear light-colored or reflective-type clothing so you are more visible. (And remember to put reflective tape on bikes, skateboards, and brooms, too!)
Make sure costumes fit properly and not dragging the ground or have shoes too big to walk in. You should be able to walk without tripping or falling.
Plan your route and share it with your family. If possible, have an adult go with you.
Carry a flashlight to light your way.
Carry a cell phone if possible or a quarter to call home if needed.
Select only flame retardant costumes
Keep away from open fires and candles.
Visit homes that have the porch light on.
Stay in familiar neighborhoods
Accept your treats at the door and never go into a stranger's house.
Use face paint rather than masks or things that will cover your eyes.
If mask are used be sure the eye holes are large enough to see well and if possible remove mask while walking between houses
Be cautious of animals. Even the best pets are easily frightened on Halloween. If you have one at your house put them up for their protection.
Have a grown-up inspect your treats before eating. And don't eat candy if the package is already opened. Small, hard pieces of candy are a choking hazard for young children.