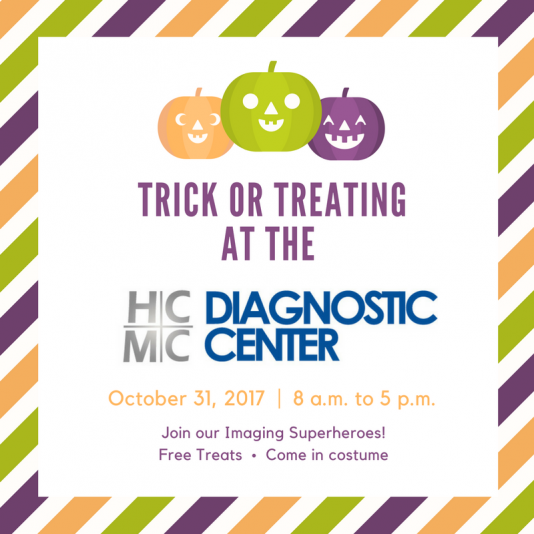 Paris, Tenn. – Henry County Medical Center wants to sweeten this Halloween for you and your family by offering several opportunities to dress in your spooktacular best and visit our HCMC Services and Clinics today.
Bring your kids by the HCMC Diagnostic Center to participate in the fun of trick or treating.  The partners at the Diagnostic Center will be dressing up as their favorite superheroes and passing out candy.  Feel free to stop by during normal business hours to participate in the fun, from 8 a.m. to 5 p.m.
Additionally, you can visit several of the HCMC Clinics and enjoy trick or treating in a safe environment.  The HCMC Kelley Clinic with the Center for Wellness & Rehab, Innovative Orthopedics and Sports Medicine, and HCMC Surgical Specialists are welcoming visitors from 2 p.m. to 5 p.m.  Also, HCMC Eagle Creek Clinic is decking out for the day with trick or treating from 2:30 p.m. to 4 p.m.  Paris Women's Center, Tennessee Highlands OB/GYN, and Transitions Health will be welcoming the little goblins from 3 p.m. to 4:30 p.m. in the Medical Arts Building, Suites 103 and 104.  Stop by and enjoy the festivities at EMS and HCMC from 3 p.m. to 4:30 p.m. as well.
After your evening of trick or treating, bring your candy to the HCMC Imaging Department and have it screened between 6 p.m. until 8 p.m.  During this time, candy will be x-rayed to make sure it is safe to eat.  Don't worry kids, this won't hurt the candy!
Once your child's candy has been examined, be sure to set boundaries on an amount to be eaten over a period of many days. You can easily reach 100 calories with just one or two snack size treats.  Most candy has a long shelf-life, so put the sweets out of reach and limit candy to two pieces per day. Larger treats, such as full chocolate bars, can be cut into smaller pieces and frozen.