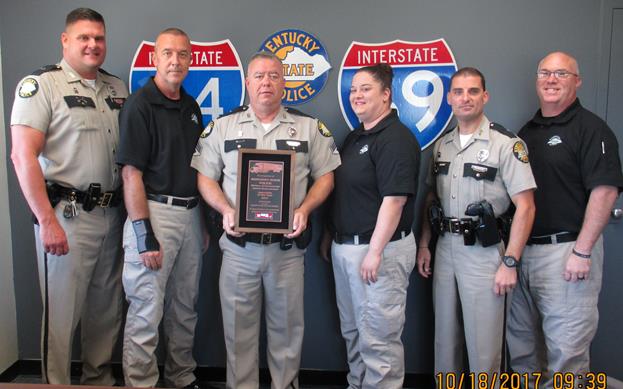 Murray, Ky.–Six members of the Kentucky State Police were honored by Paschall Truck Lines on October 12th at a ceremony in Murray at the annual Vendor Appreciation Banquet.
The members of the Kentucky State Police Commercial Enforcement Division Region 1 began working with Paschall Truck Lines in 2016 with a goal of increasing the overall safety of the company.  The members worked diligently with the company thru safety briefs and demonstrations with both the drivers and mechanics to stress both safety and compliance set forth by the Federal Motor Carriers Safety Administration.  Their efforts have changed the way the Pachall group looks at safety.  The Paschall group is now taking a proactive approach to safety by ensuring all trucks are inspected and in top working order before they are allowed on the roadway.  For their efforts, the six members were awarded the Associate Member of the Year by the Paschall Group.
The six members, from left are: Senior Officer Mike Sandbrink, Inspector II Paul Cromika, Sgt. Paul Doublin, Inspector II Brittany Doublin, Senior Officer Mark Townsend and Inspector II David Napier.