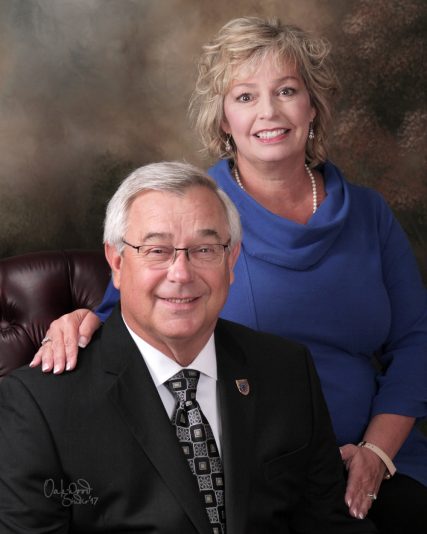 Murray, Ky. — Dr. and Mrs. William R. Wilson have established and endowed the William R. Wilson, M.D Pre-med Scholarship through a generous $50,000 gift to the Murray State University Foundation. Dr. Wilson hopes to assist students from Murray High School and Calloway County High School in their efforts to obtain a pre-med education to prepare them for a career built upon chemistry and biology. Students will be able to apply for this new fund in the fall of 2018.
Wilson was born in Murray in 1946 to J.B and Ruth Wilson. He graduated from Murray High School with honors in 1964, and his experience there led him to his long and successful career in medicine. While at Murray High, his involvement included speech team, student government and band. He also served as president of the student council his senior year. His interest in the First United Methodist Church allowed him to serve as president of the youth group and also for the region of West Kentucky.
Wilson graduated from Murray State in 1968 as a chemistry and biology major. He enjoyed learning from several outstanding professors, especially Dr. Liza Spann, biology, and Dr. Karl Hussung, chemistry.
While at Murray State, Wilson was a member of Pi Kappa Alpha fraternity and held many offices, including president. He was selected as an Outstanding Man on Campus and Who's Who Among American College and University Students. He also enjoyed being a member of the Beta Beta Beta biology fraternity. In the fall of 1968, Dr. Wilson was accepted into the University of Louisville School of Medicine.
After receiving his M.D. in 1972, Wilson was accepted to a four-year residency with the University of Louisville in diagnostic radiology, which he completed in 1976.
Wilson retired from the practice of radiology after 35 years in Murray as well as in the West Kentucky and West Tennessee regions. During his career, he taught diagnostic radiology to medical students from the University of Louisville and University of Kentucky. On top of that, he held many offices at the Murray-Calloway County Hospital, including president and member of the hospital board of trustees, and he was on the visiting staff of Vanderbilt University Hospital. He also held statewide office in the Kentucky Chapter of the American College of Radiology, serving as vice president.
Currently, Wilson resides in Murray with his wife Kimberley McCoart Wilson, graduate of Murray State.
In addition to establishing the Dr. William R. Wilson, M.D Pre-med Scholarship, the Wilsons have happily continued their support of Murray State University departments and student groups over the years, including $10,000 for the J.B. Wilson Pre-Pharmacy Scholarship, $10,000 towards the Pi Kappa Alpha Scholarship and $10,000 for the Jan Jones Wilson Sigma Sigma Sigma Scholarship. They look forward to continuing their involvement with Murray State art department programs and events and furthering their commitment to giving back to their hometown.
For information on making a gift to assist Murray State University students, please contact Jennie Rottinghaus, Office of Development, at 270-809-3406, 1-877-282-0033 or jrottinghaus@murraystate.edu.