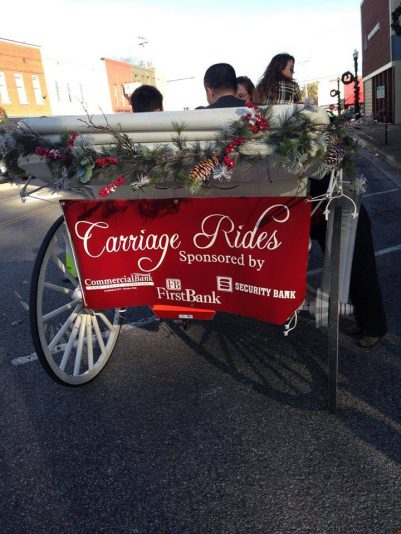 Paris, Tenn.– The Downtown Paris Association (DPA) will be hosting Christmas Open Houses in Historic Downtown Paris Friday, Saturday and Sunday, November 3, 4 and 5. "This is the kickoff event of Downtown Unwrapped – 2017, a festive slate of activities that runs from early November until the last package is wrapped on Christmas Eve," said DPA Executive Director Kathy Ray.
The festivities begin Friday morning with First Presbyterian Church's French Bazaar where delicious food and craft items can be purchased from 8 a.m. – 1 p.m. That evening, shoppers can browse and shop in downtown stores from 6 until 8 p.m. The moving Love Lights a Tree ceremony takes place on the Court House lawn at dusk followed by the Inman Middle School Band performing holiday tunes.
On Saturday, Candlelight Open House festivities run from 6 – 8 p.m.  Downtown shops will be open throughout the day.
On Sunday from 1- 5 p.m., shoppers can continue to enjoy Christmas Open Houses in stores throughout Downtown. The Henry County High School Madrigals will welcome the season by performing in various shops throughout the afternoon.
The open house weekend schedule is as follows:
Friday, November 3rd
First Presbyterian Church French Bazaar, 8:00 a.m. – 1:00 p.m. at the church.
Candlelight Open Houses in downtown shops from 6:00 – 8:00 p.m.
Love Lights a Tree Ceremony – 6:00 p.m. north side of the Courthouse Lawn
Inman School Band – Christmas music at begins at 5:30 p.m. on the Courthouse Lawn
Saturday, November 4th
Candlelight Open Houses in downtown shops from 6:00 – 8:00 p.m.
Sunday afternoon, November 5th
Afternoon Open House in downtown shops from 1:00 – 5:00 p.m.
Madrigals – strolling and singing holiday favorites 1:00 to 3:00 p.m.
Michael Holden's Community Band will be playing tunes 4:00 to 5:00 p.m.
A host of other holiday activities are coming up as part of Downtown Unwrapped 2017, according to Ray. Many are sponsored or co-sponsored by the DPA; others are hosted by organizations that appreciate the lovely, Victorian backdrop of downtown Paris for their events. Most events are free. Visit www.VisitDowntownParis.com for more information.