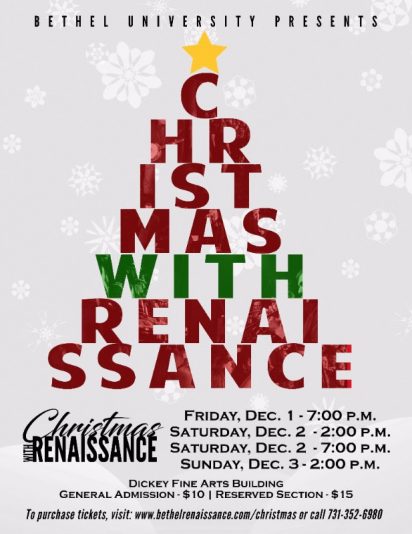 McKenzie, Tenn.—Tickets are on sale now for "Christmas With Renaissance", an annual celebration that takes audiences on an awe-inspiring journey, while showcasing all aspects of the Renaissance Performing Arts Program at Bethel.
"Christmas is my favorite time of the year, and it's always exciting when we start putting the show together! We strive to enhance the production with fresh and dynamic material each year that tells the life-changing story of the glorious birth of our Savior, Jesus Christ," according to Matthew Holt, Executive Director of Renaissance. "Bring your friends and the entire family to experience this incredibly fun and inspiring Holiday Tradition. Don't miss it!"
Shows are December 1st at 7:00 p.m., 2nd at 2:00 p.m. & 7:00 p.m., and 3rd at 2:00 p.m. All performances will be in the Dickey Fine Arts Building on campus at Bethel University. This year we will offer a Reserved Ticket for $15 or a General Admission Ticket for $10.
To purchase tickets, please visit www.bethelrenaissance.com/christmas or contact our office at (731) 352-6980. Due to a high volume of phone calls, if you do not get an answer, please leave a message and someone will confirm your tickets within 48 hours.
The group anticipates sold out crowds for each performance.