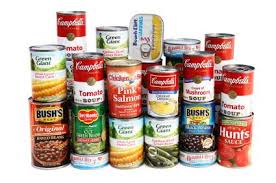 Paris, Tenn. – People struggle with hunger in every county in Tennessee and Henry County is no exception.  One in seven people in Tennessee struggle with hunger, and one in five children go to bed hungry every night.  The HCMC Center for Wellness & Rehab wants to make a difference for those struggling with hunger in Henry County and is hosting a "We CAN Make a Difference" Food Drive during the entire month of November.
The community is encouraged to bring non-perishable food items to the HCMC Center for Wellness during business hours and drop them in the receptacle located in the Center.  All donations will go to the Second Harvest Food Bank.  This time of year is especially difficult for those in hunger because of the holidays.
Items being collected include the following:
Canned and dry beans
Peanut butter or other nut butters
Shelf stable milk and milk substitutes
Canned vegetables with no or low-sodium
Low-sodium soups/pasta sauce
Chicken, beef, and vegetable broths & stocks
Brown rices, pasta or quinoa
Seeds and nuts, unsalted
Canned fruit in juice
Canned stews or tomatoes
Olive or canola oil
Canned tuna in water
Non-parishable staples for a Thanksgiving meal
"The therapists at the Center for Wellness & Rehab wanted to do something to support our community and the food drive seemed like a great opportunity to give back," said Debbie Jelks, Director of Rehab Services at HCMC.  "We encourage everyone to contribute and make a difference to Henry Countians who are struggling to find their next meal.  Just drop your items off at the Center for Wellness & Rehab and we will get everything to Second Harvest.  Your donation is much appreciated!"
The HCMC Center for Wellness & Rehab is located in the HCMC Kelley Clinic at 1015 Kelley Drive.  For more information on how you can help, contact us at 731-642-2411.