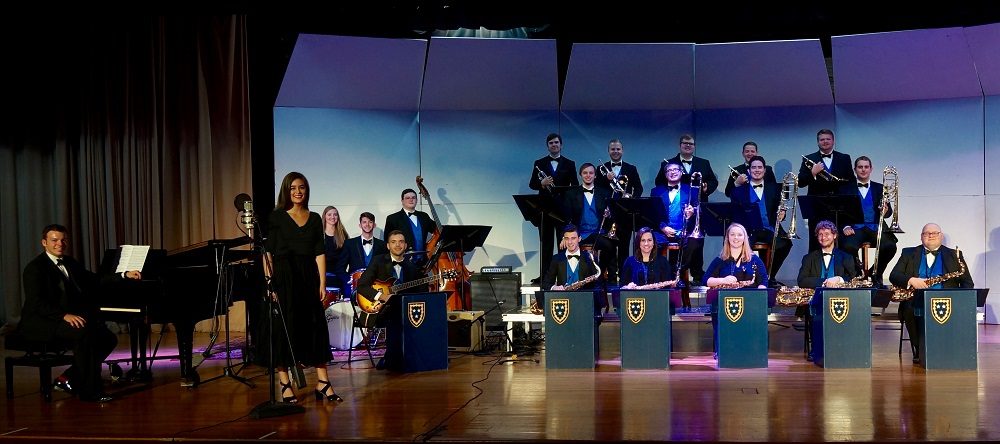 Murray, Ky. — On Tuesday, Nov. 7, the award-winning Jazz Orchestra at Murray State University, along with the University's Jazz Band, will present the Fall Campus Concert. The performance begins at 7:30 p.m. in Lovett Auditorium and is free to the public.
Throughout the concert, the Jazz Orchestra will play a versatile repertoire, including selections from Count Basie's version of "Go Away, Little Girl," Mark Taylor's "Full Count," Duke Ellington's "Harlem Air Shaft," Gordon Goodwin's "Absoludicrous" and Mike Tomaro's "Del Corazón." Meanwhile, the Jazz Band will also be performing Basie's "Shiny Stockings," "After You've Gone," "Another Song to Swing" and "Brass Machine."
In addition to the instrumental performances, two Murray State vocalists will take the stage to commemorate the 100th anniversary of the birth of Ella Fitzgerald who, along with Billie Holiday, became the initial standard for female vocalists. Melanie Davis, a senior from Mount Vernon, Indiana, will join the Jazz Orchestra for various vocal selections, including "Too Darn Hot," written by Cole Porter and recorded by Fitzgerald, in addition to Billie Holiday's "Travelin' Light." Then, in a performance with the Jazz Band, Kayla Marie Little, a junior from Murray, will perform Fitzgerald's breakthrough hits: "A-Tisket, A-Tasket" and "Bewitched," a Rodgers and Hart classic.
The Murray State Gold and Blue Jazz Combos will then make appearances on the program as the Gold Combo performs Horace Silver's "Song for My Father" and the Blue Combo performs Dizzy Gillespie's "Night in Tunisia."
Dr. Todd E. Hill of Paris, professor of music, is the director of Murray State's jazz studies program and conducts both the Jazz Orchestra and the Jazz Band with Jonathan Nash of Paris, Tennessee, serving as the graduate assistant director for the Jazz Orchestra and Jazz Band.
Under Hill's leadership, the Murray State Jazz Orchestra has appeared by invitation at the Midwest International Band and Orchestra Clinic; appeared three times at the Elmhurst College Jazz Festival, garnering the award for Outstanding Big Band in addition to a number of soloist awards; and was invited to perform in February 2018 at the Kentucky Music Educators Association Conference hosted in Louisville. The group has also released three albums, one of which qualified for Grammy nomination. A fourth album consisting of holiday classics is now available and may be purchased at the concert for a suggested donation.