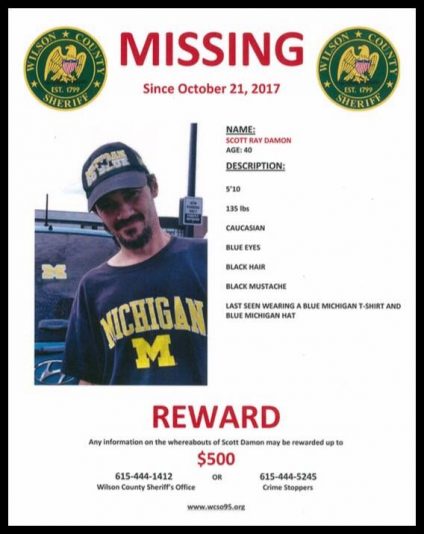 By Shannon McFarlin WENK/WTPR News Director
Benton County, Tenn.—Benton County Sheriff Kenny Christopher told WENK/WTPR this afternoon that the man pulled from the Tennessee River yesterday has been identified as a man who was reported missing from Wilson County in late October.
TBI Spokesperson Susan Niland confirmed to us late this afternoon that the body is that of Scott Ray Damon, age 40, of Wilson County, who had been reported missing October 21. She said his body was positively identified through an autopsy. The investigation remains active and ongoing.
She said the TBI is working jointly with Wilson County authorities to determine the circumstances of Damon's death.
Christopher told us earlier that his death is being investigated as a homicide. In the Wilson County case, he said, a 911 call was made and dispatchers could hear a disturbance ongoing in the background. Witnesses reported the man was taken from his house wearing black shirt and black pants and no shoes. Christopher said the body that was found was wearing only a black shirt.
The missing poster for Damon posted on the Wilson County Facebook page earlier indicates he was wearing a blue Michigan shirt and hat when last seen.
Wilson County Sheriff's Office authorities were not available for comment this afternoon.
Christopher said the badly-decomposed body was found by fishermen when it snagged on their trotline Thursday afternoon.
The body was found in the Tennessee River near the Humphreys County line, about two miles north of the I-40 bridge in a channel, Christopher said.
Christopher said markings on the body have led to the conclusion that foul play was involved.
The body has been sent to Nashville for autopsy.