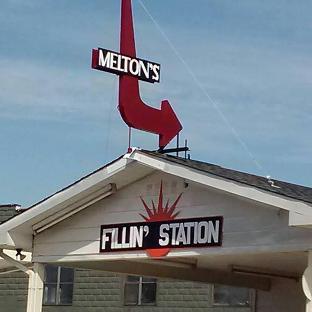 By Shannon McFarlin WENK/WTPR News Director
Big Sandy, Tenn.—Melton's Fillin' Station in Big Sandy sustained major damage from an early Saturday morning fire which could have been much worse if a passerby hadn't seen smoke inside the structure.
Big Sandy Volunteer Fire Department Chief Larry Waters told WENK/WTPR, "It was very, very lucky that man happened to see it and call 911." The fire alarm at the gas station also did sound shortly after the 911 call.
The fire occurred around 1:30 a.m. Saturday.
Waters said the filling station section of the business is still open, but the restaurant section will be shut down for awhile for repairs.
"There is some major structural damage. A lot of smoke damage, too. Everything is all smoked up in there" he said. "The fire started in the attic. But the flames smothered themselves out because there was no air. So, there's not much damage visible to anyone driving by."
The owners of Melton's posted a thank you on Facebook today to the Big Sandy Fire Department and Benton County Sheriff's Office "for being there and taking care of us. We hope to be back up and running at 100 percent soon." Melton's also thanked the public for its "calls, texts, visits, concern and especially prayers about the fire. We appreciate y'all."
Waters said 10 firefighters responded with two trucks and were on the scene for two hours.
Melton's is located at 13690 Hwy. 69A in Big Sandy.