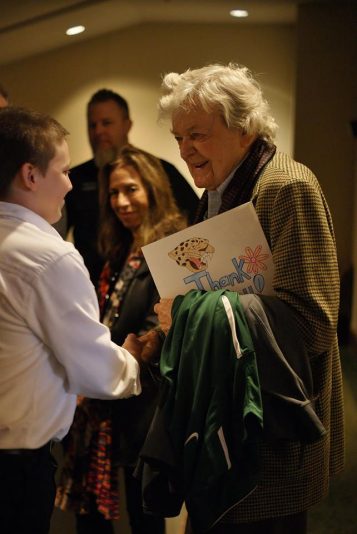 Huntingdon, Tenn.—The students of the Carroll Academy were in for a special treat Monday with a visit from Actor Hal Holbrook. Holbrook honored the Carroll Academy students and staff with an early Thanksgiving lunch held at the Dixie Carter Performing Arts Center in Huntingdon.
The students honored Holbrook by writing a play and performing it for him on the Hal Holbrook Theatre stage.
Holbrook spoke to the students after their presentation. "What's been given to you, you're going to give it back," he said. "That's the way it is in a small town. Thank you for letting me be a little part of what you're doing here. God bless you students, Mayor (Dale) Kelley, Judge (Larry) Logan and everyone involved with the Carroll Academy."
Holbrook was the husband of the late Dixie Carter, for whom the Center is named, and both have had careers that spanned the stage, movies and television. Carter was raised in McLemoresville and both Holbrook and she maintained a home there.
The Dixie has a museum on its bottom floor which contains memorabilia from both Carter and Holbrook.
(Dixie Carter Performing Arts Center photo).