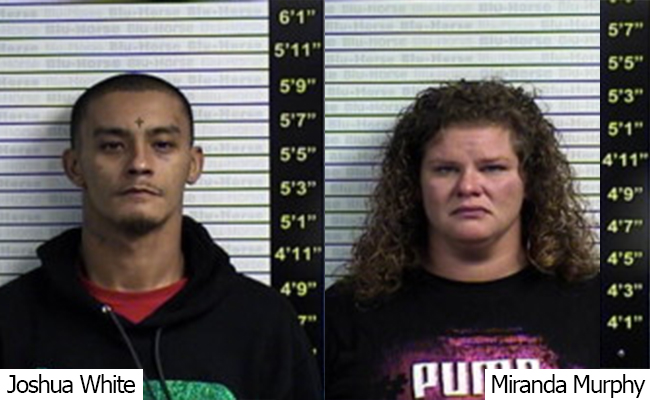 Mayfield, Ky.—Two Mayfield residents have been arrested in connection to the death of a third person who was involved with them of in a home invasion in Boaz.
Timothy Roper, age 46, of Mayfield, had appeared at the Jackson Purchase Medical Center with a gunshot wound and died later in the emergency room.
Arrested are Miranda K. Murphy, age 32, and Joshua A. White, age 28, both of Mayfield. Both were charged with Complicity to Commit First Degree Burglary and Complicity to Commit First Degree Robbery and are lodged in the Graves County Jail.  Murphy also was charged with possession of meth.
The investigation by the Kentucky State Police revealed that immediately prior to the shooting, Murphy, White and Roper arrived at a residence on McNeil Road in Boaz, Kentucky, for the purpose of robbing the homeowner.  After forcing their way into the residence, the suspects robbed and assaulted the elderly homeowner. The homeowner then shot Timothy Roper.
Preliminary autopsy results confirmed Timothy Roper died as a result of a single gunshot wound to his upper torso.
The investigation is continuing by Detective David Dick. Anyone with information is asked to contact the Kentucky State Police Post 1 at 270-856-3721 or anonymously at 1-800-222-5555.  Citizens may also report tips anonymously through the KSP app.  The app is available for iPhone, iPad and Android applications and can be easily downloaded free of charge through Apple and Google Play stores.