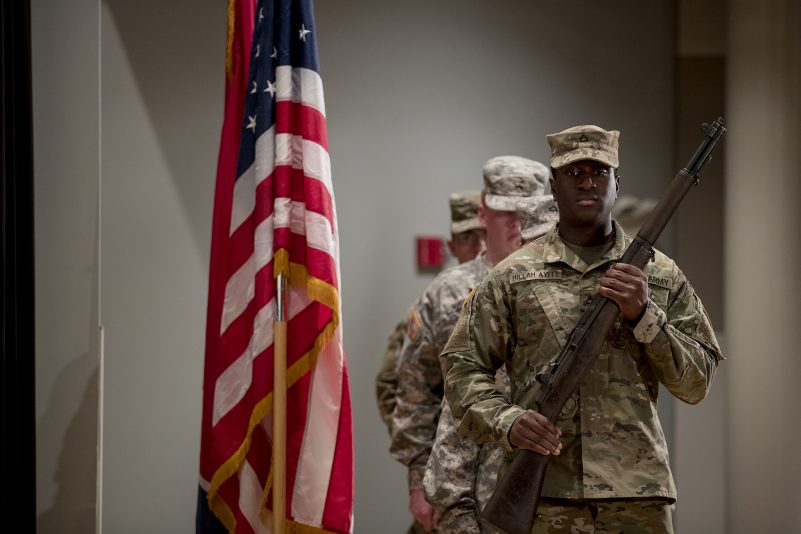 Martin, Tenn. – The University of Tennessee at Martin will hold a combination Veterans Day Ceremony and Vietnam War Veterans Commemoration Pinning from 3-4 p.m., Friday, Nov. 10, in the Boling University Center's Watkins Auditorium. The event is open to the public and is sponsored by the university, the UT Martin Skyhawk Veteran's Association and the American Legion Auxiliary Unit 55.
In addition to honoring veterans at the event, Nov. 10 marks the 242nd birthday of the United States Marine Corps, and a reception honoring the U.S. Marines will follow in the Welcome Center located near the Watkins Auditorium lobby. Retired Lt. Gen. John "Glad" Castellaw, U.S. Marine Corps and UT Martin alumnus, will attend the event.
Timothy McClain, Skyhawk Veteran's Association president, will emcee the event; Dr. Keith Carver, UT Martin chancellor, will welcome veterans and guests; and Dr. Rich Helgeson, UT Martin interim provost and Vietnam War veteran, will be the featured speaker. Participating in the pinning ceremony will be Molly Morel and Tammy Hall, representing American Legion Auxiliary Unit 55, and Matt Van Epps, assistant commissioner, Tennessee Department of Veterans Services.
Any living veteran who served at any time on active duty in the U.S. Armed Services, regardless of location, from Nov. 1, 1955, to May 15, 1975, is eligible to receive one Vietnam Veteran Lapel Pin during the pinning ceremony. "This is our chance to honor these Vietnam veterans and show them the honor and recognition they deserve," said Tammy Hall, American Legion Auxiliary Unit 55 member and a UT Martin administrative assistant. "Many weren't given the option to serve, and we need them to know that we support and appreciate them."
RSVPs are not necessary, and surviving spouses or family members who attend can provide information at the event to order their special pins and certificates. Additional information is available by contacting Tammy Hall by email at thall19@utm.edu, or call her at 731-881-7380.
The university will continue to honor active military and veterans Saturday, Nov. 11, at Graham Stadium as UT Martin welcomes Jacksonville State University for the annual Veterans Day football game. All active military and veterans will be admitted free to the game, and the ROTC Skyhawk Battalion will provide free lunch for active military and veterans before the game in the north end zone tailgating area under the Tennessee Army National Guard spider tent. A special military induction ceremony and Skyhawk Marching Band patriotic music presentation will be offered at halftime. Several military vehicles will be available at the game for fans to view.