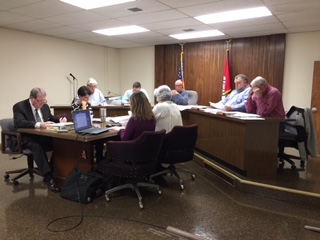 By Shannon McFarlin WENK/WTPR News Director
Paris, Tenn.—At a lengthy session Thursday night, the Paris Municipal Regional Planning Commission heard a preliminary report from the Euro USA company which is planning an addition to its Paris plant which will mean 40 new jobs available for the community.
Pat Reagan, Senior Manufacturing Engineer, told planners Euro will be adding 51,000 square foot to the rear of the present building for the expansion.
Euro USA is located at 2700 W. Wood Street in the former Tecumseh Building.
Reagan said Euro is wanting to get started as soon as possible and is hoping to have a complete site plan completed in a week or two.
City Economic Development Director Jennifer Morris said a special meeting may be needed if it is ready before the next regular planning commission meeting. "They're working with a construction company right now, diligently working to get the state plan done in the next couple of weeks."
City Manager Kim Foster said, "This is something wonderful for the community."
The bulk of Thursday night's meeting was taken up with discussion of and approval of two rezoning requests for two separate properties on Memorial Drive. Both requests now are forwarded to the city commission for final approval and public hearings on both prior to the December 7 commission meeting.
Another rezoning request for Russell Street also was approved and it also will be heard at public hearing December 7 and acted on by the city commission.
Approved was a request from Scott Herman for rezoning of 1016 Memorial Drive from R-1 Low Density to R-2. Herman was present at the meeting and said he plans to construct two two-bedroom duplexes that are intended for college students or the elderly.
Morris noted that the city already has received three phone calls from people objecting to construction of duplexes at that site. Herman said he promises his duplexes will be 'neat and orderly'.
Commission Member Charlie West said Herman "obviously has good intentions, but it may open the door to negative backlash. I'm for growth, but we may be opening the door."
Commissioner Gayle Griffith said he believed it was good for the city.
After much discussion, the panel also approved a request from Mike Garner to rezone property at 245 Memorial Drive from B-1 to TRB (Transitional Residential Business). The property currently has a house and a potential buyer who wants the property to remain residential was unable to secure financing the way it is currently zoned.
Also approved and forwarded to the city commission was a rezoning request from Harlan Crawford for 600 Russell Street from M-2 to B-1. The property is currently vacant and a potential buyer wants to develop the property for retail sales.