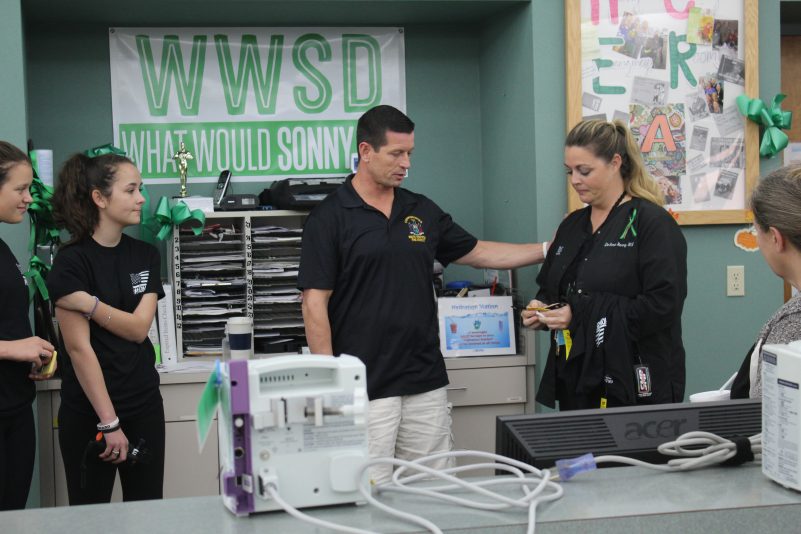 Paris, Tenn.– –The simple act of buying lunch made a big impact on the ER team at Henry County Medical Center on Wednesday. The members of a group known as Honor58 visited the ER staff with a meal in memory of Sonny Melton, the registered nurse who was killed in the Las Vegas mass shooting.
Honor58 is a team of three individuals who want to make a difference with their actions and have set out on a cross country journey to honor the 58 victims of the Las Vegas shooting.
Tommy Maher, daughter Kelli Maher, and friend Aline McEntee, from Long Island, have made 58 bracelets, each with the name of a shooting victim. Leaving their homes on November 7, they plan to travel to 20 cities throughout the U.S., handing out the bracelets and performing a random act of kindness in honor of each one.
Honor58 gave DeAnn Berry, Emergency Room Director at HCMC, a bracelet with Sonny's name on it with the hope that the random acts of kindness will be continued by passing along the bracelet to the next recipient. They also bought and delivered lunch for the Emergency Room staff as a random act of kindness in Sonny's honor. In return, DeAnn gave the group t-shirts made in Sonny's honor.
Honor58's message is to pay it forward with random acts of kindness. As they travel the country, they hope to honor these victims with their actions and inspire others to pay it forward. They call others to perform random acts of kindness and post a picture or video using the hashtag, #Honor58, to honor the victims and to do good in their name.
Berry says, "I was left speechless when these inspiring folks showed up and presented our ER with these tokens of memorabilia in honor of Sonny.  I was presented with the bracelet with Sonny's name on it and I carry on the random acts of kindness to help honor those 58 victims.  One of the quotes that I keep telling myself everyday about this tragedy is that Love will Conquer hate and I feel in my heart that this is a perfect example of how we will accomplish this.  Tommy and those girls were here out of pure kindness and compassion just to be nice.  That is something Sonny would have done.  I am honored to meet such amazing people.  Tommy's friend was a victim in the Sept 11th tragedy and he is going above and beyond for people to remember him, as I plan to do for Sonny."
Photo: ER Director Deanne Berry is given a bracelet to honor Sonny Melton by the Honor58 team.