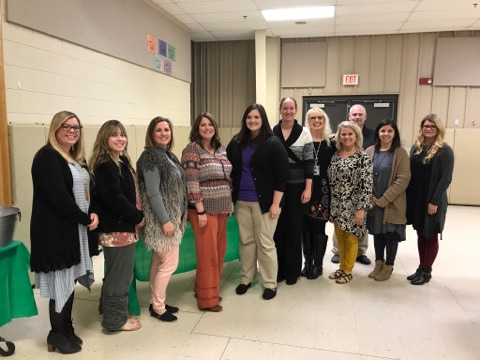 Puryear, Tenn.—The Henry County Schools board of education honored the newly-tenured teachers at a reception Thursday night at Harrelson School in Puryear. The reception was held just prior to the monthly board meeting.
At the recommendation of Director of Schools Dr. Brian Norton, tenure was approved for these teachers at the following schools:
Harrelson:  Lindsey Crane (RTI teacher), Melissa Chambers (7th grade English/Language Arts), Amanda Albritten (RTI teacher)
Henry:  Amy Williams (5th English/Language Arts and Social Studies), Angie Cook (1st grade teacher), Robin House (6th-7th grade English/Language Arts), Jana Bruce (Kindergarten), Valerie Guthrie (6th-8th Science)
Lakewood:  Ben Burkhart (8th grade Math/Algebra 1), Carrie Burns (School Counselor), Dana Lamkin (5th grade math/science)
Grove:  Jamie Osbron (Biology Teacher)
Photo by Susan Burton. Missing from photo is Jamie Osbron.