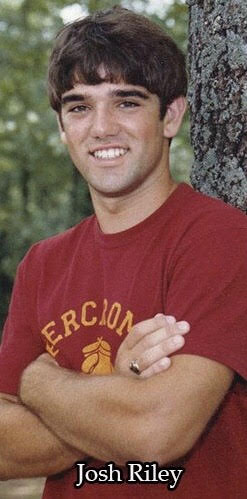 Henderson, Tenn.—A former Henry County High School Soccer Player who lost his life in 2004 while saving two others from drowning will be inducted into the Freed-Hardeman Athletics Hall of Fame during a ceremony Saturday, November 11.
Josh Riley played men's soccer at Freed-Hardeman from 2001-2003. Earlier, the soccer complex at Freed-Hardeman was named in Riley's honor.
Riley lost his life while saving the lives of two of his friends on July 24, 2004. While boating at Kentucky Lake, Riley swam to the aid of his drowning friend and gave him his life vest. He then swam to his friend's 3-year old who had crawled from the safety of a floating tube and pushed him back to safety. Josh was overcome with exhaustion and drowned after saving their lives.
After hearing about Riley's tragic death, the coaching staff and former teammates inquired about the possibility of naming the soccer field in Josh's honor. Those dreams were developed into the creation of the Josh Riley Soccer Complex , which consists of a regulation pitch, practice field, stadium lights and a Press-box completed in 2015. At the time of his induction, funds were being raised to expand the complex to include new bleachers and a section designated as a Memorial.
"Josh was a tremendous young man who loved others unconditionally," said Jason Elliott, head coach for the FHU soccer programs. "As a player he was a tremendous teammate who always put the team first. Josh was a defender that was tough to get by because he would never quit and you always knew he would give maximum effort.  When we signed him in 2001 we knew that his thankful and loving heart would impact our team and it did every day as it was a joy to be around his enthusiasm for life. He loved his family so much and after playing at FHU we saw his love for his wife Kristi in building a life together."
Three other former Freed-Hardeman athletes also will be entering the Hall of Fame as part of the 2017 Induction Class. They include Amy "Hannah" McKay, Leslie Hiatt and Ronnie Sarver.
The four will officially be inducted on Saturday, November 11th at 7:15 PM in Ayers Auditorium of the Brown Kopel Business Center. The Hall of Fame Induction ceremony will cap off an exciting weekend for the FHU Athletic Department, as the annual Homecoming Basketball games will take place at 1 and 3 p.m. along with all of the Homecoming activities.