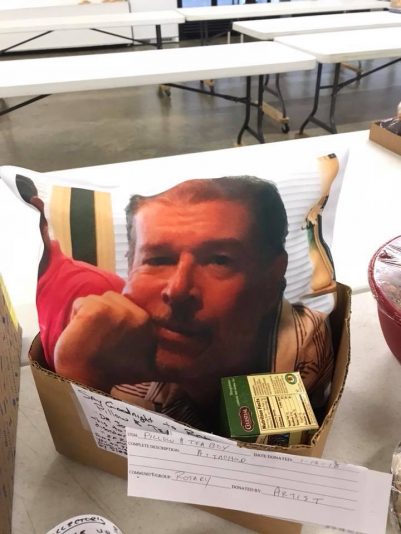 By Shannon McFarlin WENK/WTPR News Director
Paris, Tenn.—Considering the weather conditions, there was a surprisingly large crowd at Friday's Helping Hand Radio Auction and they had a good time—and made high bids—while snow fell steadily outside all day.
After today's bidding, the grand total raised is now $17,792, counting the $4,370 raised today by the Paris Rotary, Party Bounce and Jump, Osage/Airport community and the Paris PI.
In memory of the late Barbara Muzzall, Rotary members bid a total $1,050 on a flannel shirt from The Toggery, with Rotary members making competing bids as the price tag went higher and higher. Muzzall died in November and was the first woman to be inducted into the Paris Rotary Club several years ago.
Rotary members also had fun bidding on several "Rob Wells gift baskets" which contained photos of Wells embossed on various items, including a pillow. Auctioneer Junior Staggs noted the gift baskets were especially unique as they were a 'limited edition'.
Donating items for Saturday will be the Pleasant Hill community.
The auction is broadcast daily on WTPR-AM 710 beginning at 12:30 p.m. and on Saturday auctions at KQ105.5 beginning at noon.
Auction phone is 644 1695.
Photo by Donna Thompson Craig