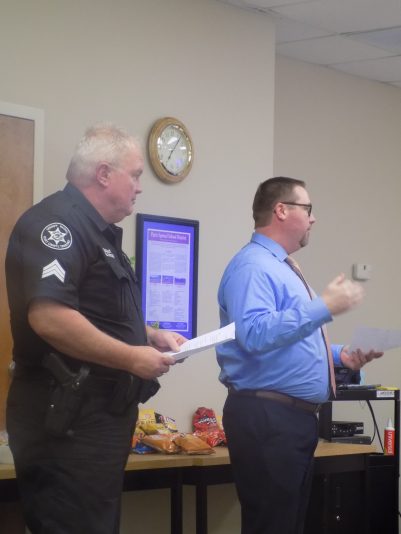 By Shannon McFarlin WENK/WTPR News Director
Paris, Tenn.—At Monday evening's Paris Special Schools District safety workshop, Paris Elementary Principal Chip Gray and School Resource Officer Deputy Sgt. Eddie Crosser reported on a new lock system that Crosser developed for the building, which they are in the process of having patented.
A provisional patent has been issued already for what is called the "Crosser Stop Lock", Gray said.
Representatives of Homeland Security will be visiting the school Tuesday to review the lock, Gray said.
"What we wanted were new locks that used a 'one step, one motion'," Gray said. "We looked but couldn't find what we wanted anywhere, so Sgt. Crosser went out and got the materials and designed it himself."
Under the new locking system, the door can be shut and secured in a second or less, he said.
He and Crosser showed a video of the new lock system for the board members.
"The teachers love it and it will keep kids at PES safe," Gray said. "And this lock idea is something that could possibly go to other schools and be a help to them as well."
The locks are in the process of being approved, Gray said.
Photo: SRO Deputy Sgt. Eddie Crosser and Principal Chip Gray present information on the 'Crosser Stop Lock". (Shannon McFarlin photo).