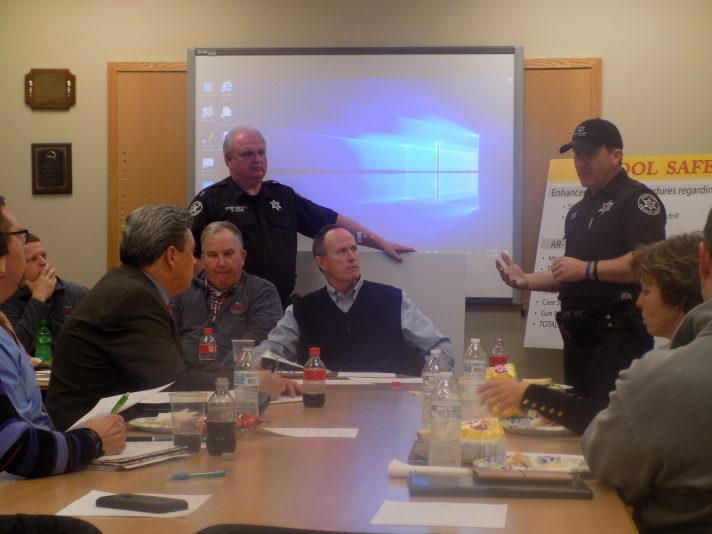 By Shannon McFarlin WENK/WTPR News Director
Paris, Tenn.—School safety—what is being done now and what needs to be done for the future—was in the spotlight at Monday night's Paris Special Schools District workshop.
Board members heard reports from Sheriff Monte Belew and Chief Deputy Demon Lowe, as well as the district's SROs, principals, technology experts and maintenance  personnel. PSSD utilizes an SRO at each building and all are deputies with the Henry County Sheriff's Office—Deputy Michelle Brewer at Rhea School; Deputy Dennis Vaughn at Inman and Deputy Eddie Crosser at Paris Elementary.
Belew praised the PSSD in several areas which the district already is doing—surveillance cameras which connect the buildings with the 911 dispatch, as well as Belew and Lowe's phones; safety drills, the Ident-A-Kid set up which requires people to show their identification before entrance into buildings. It was because of Ident-A-Kid that a sex offender was barred from entering Rhea School recently and was escorted from the building.
Belew said, "A lot of this is a work in progress, but you people are at the top of the line." The county schools are still working on accessing the Ident-A-Kid procedure, he said.
Director of Schools Dr. Norma Gerrell said the district is creating a "culture of practice" and in which teachers and staff are drilled regularly on "real life scenarios".
Gerrell said she now thinks urgently and encourages others in the district to do so, also. "My main thought when I start the day is the student's safety and that's what I think about all through the day" and district staff is encouraged in that way, too.
An essential aspect of school safety, she said, is to empower teachers with knowledge.
Belew reported that one more SRO will be added to the Henry County High School and said State Rep. Tim Wirgau has introduced a bill which would allow teachers to be armed Belew said a key note in that situation is that only teachers who are 'inclined, selected, trained and proficient' would be allowed to carry a gun. "It would be only those who the director of schools and principal deems," he said
The way the bill is worded now, Belew said, PSSD and Henry Co. Schools would not be eligible to arm teachers. "The way it's worded now, only distressed counties would be allowed to arm teachers," he said.
If Henry Co. and PSSD did receive approval, Belew said, the sheriff's office would be willing to offer training. Belew said he believed it "could be beneficial in the long run".
Board Member John Steele, who chairs the legislative committee, said from what he is hearing the bill doesn't have a good chance of passage.
The district's SROs and Building Principals reviewed the 'safety walk-throughs' they conducted recently, with Vaughn reporting with Principal Jason Scarbrough, Crosser reporting with Principal Chip Gray and Brewer reporting with Principal Sandra Paschall.
During their walk-throughs, they made check lists of all that is done correctly now and things which need to be fixed or changed in each school, inside and out.
District IT Director Charles Archer reported on the number of cameras which already are in place in the schools and lauded the new camera system which can now be extended to all school officials, 911 dispatch, sheriff's office, and city police. He said each SRO also can access live surveillance footage on their phones.
District Safety Coordinator Sherry Wagner reported on what she and Dr. Gerrell learned at a recent conference, notably the need to coordinate between all district buildings.
Photo: Sheriff Monte Belew, right, and Chief Deputy Damon Lowe present safety information to board members. (Shannon McFarlin photo).