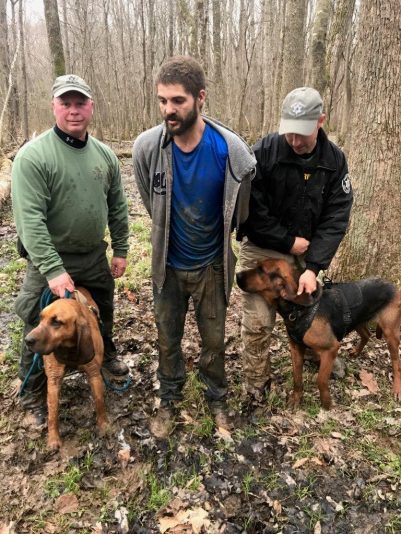 By Shannon McFarlin WENK/WTPR News Director
Paris, Tenn.—Thanks to Henry County Sheriff's Office Bloodhounds Adora and Rowdy and their handlers Deputy Sgt. Wayne Fuqua and Deputy Stacey Bostwick and fast running by Sheriff Monte Belew, and Deputy Sgt. Brian Davis, two suspects were caught after they ran into a swampy area to elude arrest Monday afternoon.
Arrested were Jeremy Lee Groves, age 27, of Camden, and Christopher Patterson, age 28, of Big Sandy.
Trooper Byars had attempted to stop their vehicle on Whitehead Road, but their vehicle crashed and Groves and Patterson fled on foot.
Sheriff Belew said, "Unbeknownst to the suspects, the Henry County Sheriff's Office is hosting a K-9 school this week." Moments after the suspects fled, Bostwick was at the scene with his K-9 Rowdy and Fuqua was there with his K-9 Adora.
Both bloodhounds initiated a track on the suspects. Rowdy was able to track Groves and Sgt. Davis took him into custody.
At this time, Fuqua and Adora initiated a second track after Patterson and were joined by Belew running through the swampy area.
Approximately a half mile later, Belew was able to take Patterson into custody.
After both were in custody, a search of their vehicle revealed a handgun and hydrocodone pills. Groves is charged with evading arrest, DUI, driving on a suspended license, reckless driving, unlawful possession of a handgun. Patterson was charged with evading arrest and simple possession.
Both will appear in General Sessions Court today.
Photo: Christopher Patterson in custody by Deputy Stacey Bostwick and Rowdy, left, and Deputy Sgt. Wayne Fuqua and Adora, right. (Monte Belew photo).