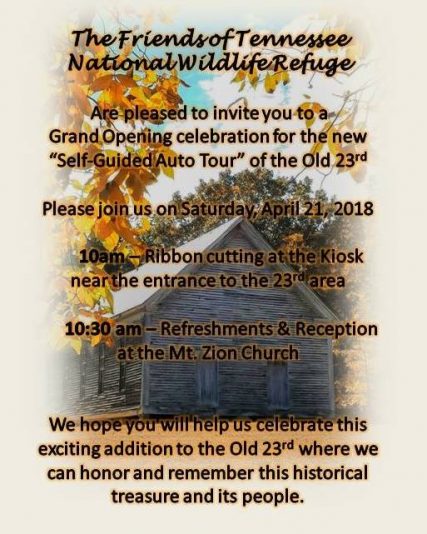 Big Sandy, Tenn.—The public is invited to the unveiling of the self-guided auto tour of the Old 23rd District this Saturday, April 21.
The auto tour will highlight the former Old 23rd and its homesteads, as well as the families who once lived in that district. The community of the Old 23rd has been extinct since 1944 when Kentucky Lake was formed.
The auto tour is sponsored by the Friends of the Tennessee National Wildlife Refuge, which has been holding fundraisers for some time.
Ribbon-cutting will take place at the kiosk near the entrance to the Old 23rd area at 10 a.m., with refreshments and reception set for 10:30 a.m. at the Mt. Zion Church.
The Mt. Zion Church is the only existing building in the Old 23rd and is on the National Register of Historic Places.
Directions: From Paris take Hwy. 69S to Big Sandy and turn left on Main Street and from Camden, take Hwy. 69N to Main Street. From both directions, turn right on Front Street in downtown Big Sandy, turn left at the next road (Second St.), cross bridge and turn right onto 5th St. This becomes Lick Creed Rd. as you go out of town. Follow Lick Creek Road 10.4 miles to the refuge entrance.