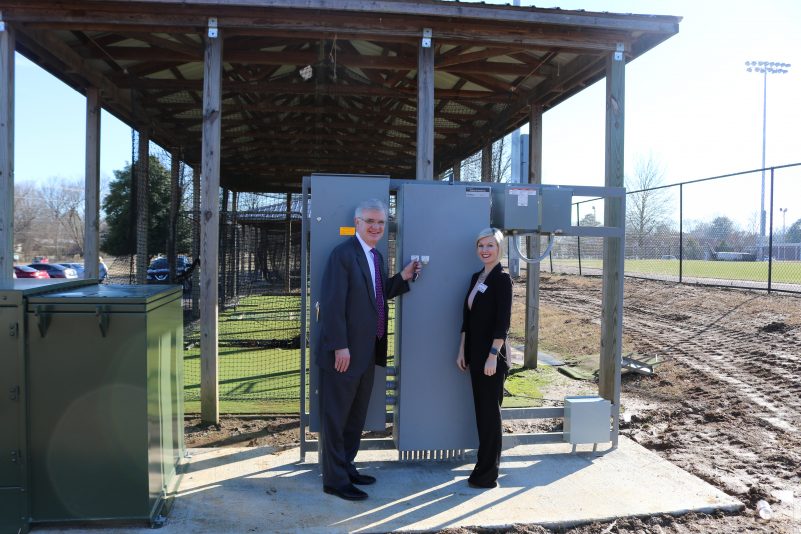 McKenzie, Tenn. – Bethel University will hold a ribbon cutting Friday, April 20, to officially recognize its newly lighted baseball and softball fields as Kahlden Complex. The ribbon cutting will take place at the beginning of the Bethel Wildcats' evening game against arch rival Martin Methodist which will begin at 6 p.m. at the Bethel University baseball field.
"We invite the community to come watch our Wildcats baseball team in action and to take part in this ribbon cutting event," said Bethel President Dr. Walter Butler. "We will have the Kahlden family here – Thomas, Patty and Kolby – so that we can recognize them for their generous donation that paid for the purchase and installation of lighting for our baseball and softball fields. We are so grateful to them for what they have done."
The Kahlden's are from Caldwell, Texas, and they own and operate Refinery Specialties, Inc., an oil and gas solution company in Bryan. Their son, Kolby, is a current student at Bethel majoring in physical education, and he is a dual student athlete in football and shooting.
Patty Kahlden said she saw the opportunity to help with the lighting project and knew that it was a way to ensure impacted student athletes spent less time making up classes missed from day and afternoon games.
The newly installed lighting project includes 64 lights for the baseball field and 26 for the softball field. Musco Lighting undertook the installation, it meets all NCAA regulations, and there is a 25 year warranty.
For more information about the ribbon cutting, contact Myra Carlock at carlockm@bethelu.edu or at 731-352-4090.
Photo: Bethel University President Dr. Walter Butler and Director of Development Amy Thompson stand in front of the panel that controls new lighting for the school's baseball and softball fields which can be partially seen to their right in the photo.