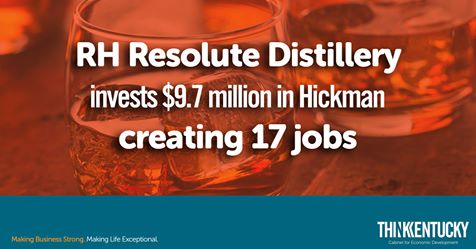 Hickman, Ky.–RH Resolute Distillery Inc. plans to locate in a previously unopened distillery in Hickman, creating 17 jobs with a $9.7 million investment, Gov. Matt Bevin announced Tuesday.
A hiring event will be held for the 17 jobs from 10 a.m. to 2 p.m. Tuesday, July 17, at the Fulton County Office Building (former National Guard Armory) in Hickman. According to RH Resolute Distillery, these positions will be full-time and pay $15 an hour, with benefits.
"The commonwealth's bourbon and spirits industry is a sector that continues to grow at a steady rate," Gov. Bevin said. "This project is particularly encouraging, as it puts a once unused facility to use in a region that will greatly benefit from the resulting job creation. We look forward to seeing RH Resolute Distillery begin production in the very near future, and to seeing its positive economic impact on many West Kentucky communities."
The company plans to finish construction and outfitting of a previous distillery project and begin distilling for the bulk spirits market by late summer. Initially, the operation's production will target 400 barrels per week and increase to a projected maximum capacity of 2,600 barrels weekly. The 17 new jobs include production, barrel filling, barrel handling and equipment maintenance positions.
"The opportunity to make great bourbon in Hickman is exciting for us and we are proud to welcome talented folks from the area as part of our project. We believe West Kentucky has a great deal to offer to the bourbon industry and we look forward to showcasing the quality of our Kentucky made product," said Sarah Jones, brand director at RH Resolute.
The startup distillery originated in Paducah and is the result of a partnership between Jones and her husband, Chuck, and Matt Haney, the company's chief operational officer, and his father, Mike. The Haney family also owns and operates HBS Copper, a still manufacturing plant in Barlow.