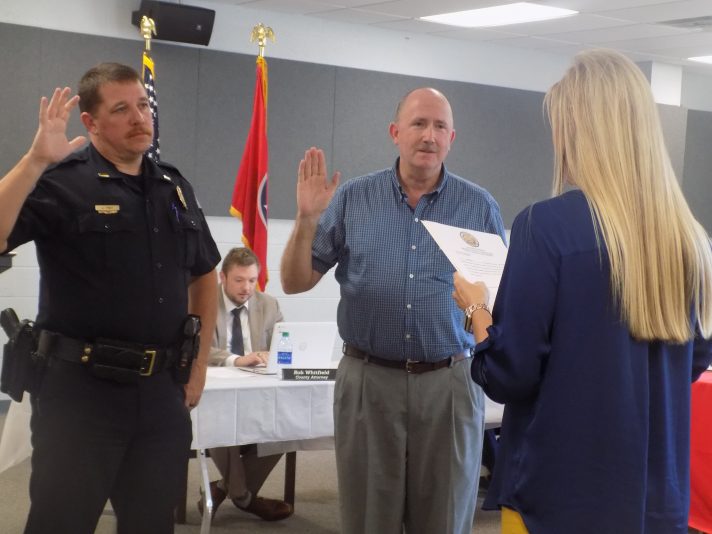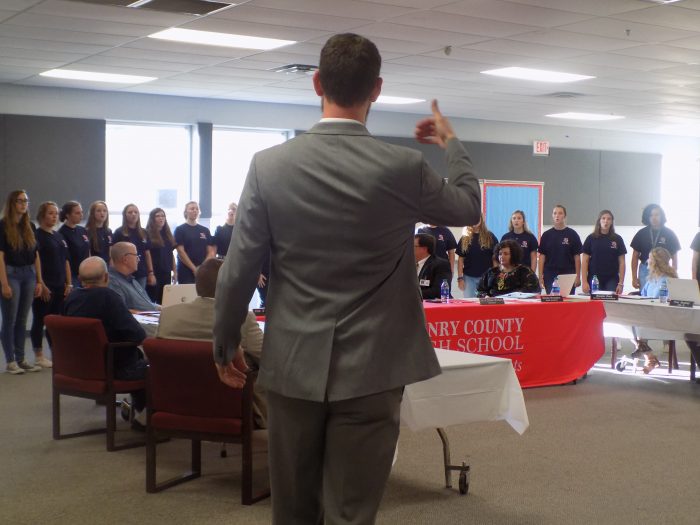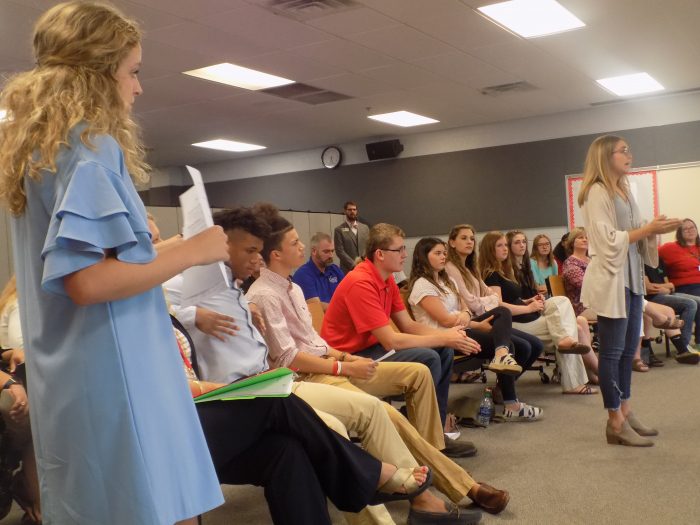 By Shannon McFarlin WENK/WTPR News Director
Paris, Tenn.—At a lengthy and wide-ranging meeting, the Henry Co. Schools board of education discussed injuries at recent middle school games and the need for medical coverage at the games and the possibility of prayer at games led by local ministers.
At the meeting's outset, Jill Coker was elected board chairman, with Rod Frey elected vice-chairman.  Two board members were sworn in—new member Josh Frey and returning member Jim McCampbell. They were sworn in by Henry County Clerk Donna Craig.
With the meeting held at Henry Co. High School, the board also heard reports from students and administration on programs and successes at the school. The board also heard a musical presentation from Bella Voce, an all-female student vocal ensemble led by Blair Chadwick.
The topics of injuries at middle school sporting activities and prayer at games were introduced by Board Member Rod Frey.
Frey said four or five kids have been hurt at middle school games recently and no medical personnel were at the games. "Two of these kids spent the night at the hospital," Frey said.
Director of Schools Dr. Brian Norton said the district does not have a contract for medical coverage at middle school games but does have a contract for high school games. "But, we were promised there would be medical coverage at the game last week, but there wasn't and two kids were hurt. We should have had medical personnel there, but there was a communication problem and the medical person went to another game rather than our game."
Norton said there is only one more middle school game and that is next week. "We want someone at next Thursday's game, but if no one is there, the game will be cancelled."
On the prayer topic, Frey said he had been approached by several pastors who are members of the Henry Co. Ministerial Alliance who want to perform prayers at games. "They want to do it on their own," Frey said.
Both Dr. Norton and School Board Attorney Rob Whitfield said it would be unconstitutional  to allow it.
Whitfield said, "This is an extremely controversial topic. The Tennessee Attorney General has said it would be unconstitutional, that a board cannot have a policy involving prayer. A spontaneous student-led prayer would not be unconstitutional, such as if students were praying in the locker room, but a board cannot have it as a planned activity."
Frey said, "I don't want a policy. I'm just passing the message from the ministers."
Whitfield said, "Case law on this is very complicated and contentious. There can't be any sort of structured prayer like that. I understand what you're saying, but without question that would be unconstitutional for a school board to facilitate prayer like that."
Norton added, "If we allowed one religion to do that, we would have to allow all religions."
Earlier in the meeting, presentations were given by High School Principal Michele Webb and students Sylas Allen, Caroline Gurton, Ethan Thompson, and Will Carlton on the dual enrolment and Advanced Placement Classes. Natalie Clark, who is the student representative on the school board, also spoke on the success of dual enrolment at the school.
Both Webb and Clark said Henry Co. High School has dual enrolment opportunities from both TCAT and Jackson State. Webb said 59 high school students have been recognized as Advanced Placement scholars through the Ready Graduate program.
In other business:
–After a presentation from FFA Advisor Laura Moss and Student Caroline Gurton on the achievements of the local FFA program, an upcoming field trip to the national FFA convention was approved.
–Upon recommendation of Norton, the board approved a Tennessee Together Student Survey be conducted for the Tennessee Department of Mental Health and Substance Abuse. The voluntary and anonymous survey—conducted with permission of parents—would provide the state with a source of data on the state's opioid crisis and substance abuse among young people.
Photos: Josh Frey and Jim McCampbell take the oath of office given by County Clerk Donna Craig; Blair Chadwick directs Bella Voce; Natalie Clark and Caroline Gurton give presentations. (Shannon McFarlin photos).