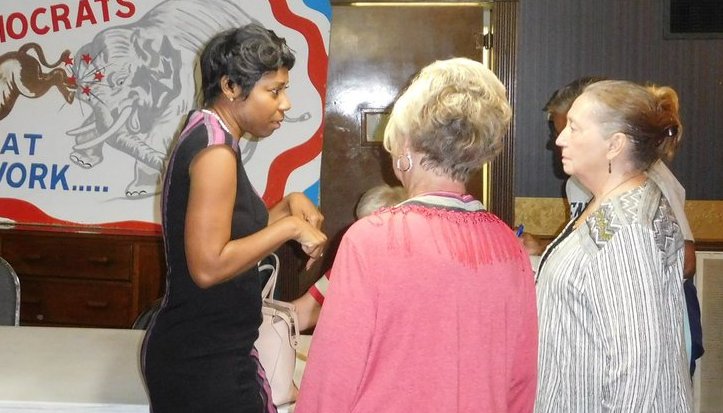 Paris, Tenn.—Congressional Candidate Erika Pearson will be returning to Paris for the Henry Co. Democratic Party Picnic next weekend. She will be joined by other Democratic candidates for office.
Pearson, of Memphis, is running for the Congressional seat currently held by Congressman David Kustoff. Pearson spoke to the Democratic Party this week at the Greystone, covering a number of topics.
The annual Democratic Party Picnic will be held from 12:30-5 p.m. Saturday, September 22, at the Old Paris 5 & 10 Event Center at 110 W. Washington St. in downtown Paris.
The picnic will include BBQ with all the fixings and dessert. It is a fundraiser and will include a silent auction. Tickets are $10 and must be purchased in advance.
The Democratic Party headquarters is located at the Greystone in downtown Paris and is open every day. Volunteers are needed to man the office.
Photo: Congressional Candidate Erika Pearson, left, speaks with Party members in attendance at this week's meeting. (HC Democratic Party photo).