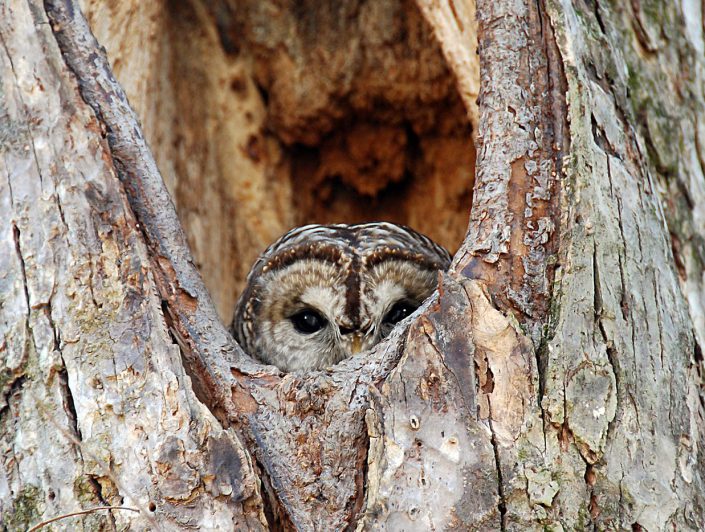 By Shannon McFarlin WENK/WTPR News Director
Paris, Tenn.—Paris Photographer Jean Owens is the proud winner of the Peoples' Choice in the 2019 Tennessee Wildlife Federation calendar contest.
Owens' image of a Momma Barred Owl peeking out of a knot in a tree was declared the winner from 4,500 submitted images. Of those, voters from all over the country and beyond whittled down the Peoples' Choice images from 55 finalists to the winning shot by Owens.
Owens said she was floored by the honor, especially that so many people had voted for her photograph.
"I spent hours getting that photo," she said. The photograph was taken in a wooded area near Camden which was pointed out to her by a co-worker. "I would go there after work and on weekends, set up my tripod and I had an owl call and I just spent hours on that. The Momma would peek her head out of the nest she had inside the tree and sometimes a couple little babies would, too, but the best shot was just of her, which is what I submitted."
It was good fortune that Owens got the perfect shot when she did because the tree fell apart from weather conditions after that, she said.
For winning Peoples' Choice, Owens will receive a calendar and a $100 Academy Sports gift card. "They already contacted me about sending in my bio to use in their publicity," Owens said.
According to the press release from the Tennessee Wildlife Federation, a total of 671 photographers submitted photos highlighting Tennessee wildlife and outdoors.
Judges reviewed each photograph for originality, technical excellence, composition, overall impact, and artistic merit. They selected the cover image, monthly feature photographs and honorable mention images for the calendar.
From the original submissions, 55 photographs were selected to compete for the People's Choice Award. Those images were featured on the Federation's website and open for voting. More than 19,000 votes were cast altogether.
Calendars will begin mailing in late November.