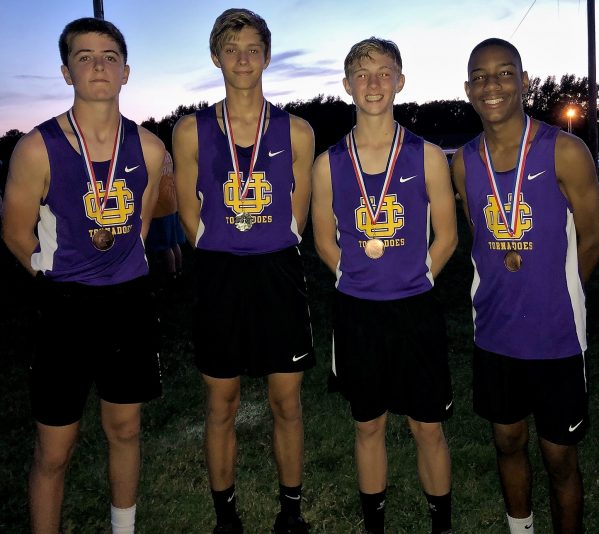 By Mike Hutchens, UC Schools Communications Director
Union City, Tenn.–Union City High School cross country coach Katie Parr could hardly contain her enthusiasm.
"I'm sure proud today," Parr said, after her Tornado boys' team finished runner-up behind only Dyersburg (by two points) in a meet at Milan Tuesday.
"To have four runners under 19 minutes is incredible!"
Seven Tornadoes in all posted their personal-best times in the 3.1 mile race.
Dalton Bone placed second overall at 17:48, just ahead of teammate Matthew Parr, who finished third with a time of 18:01. BJ Frankum came in fifth at 18:05 and Cedrion Cook was 13th at 18:45.
Taylor Pickering placed 31st at 21:15, Reice Gray was 40th at 21:53, and Cameron McLendon came in 56 at 24:05.
Katelyn Edmond recorded the UC girls' best finish – coming in 18th with a 26:03 time.
Lizzy Jones was 39th (28:52), Emilia Maldonado 54th (30:50), and Natalie Johnson 56th (31:23).
Mike Hutchens photo.