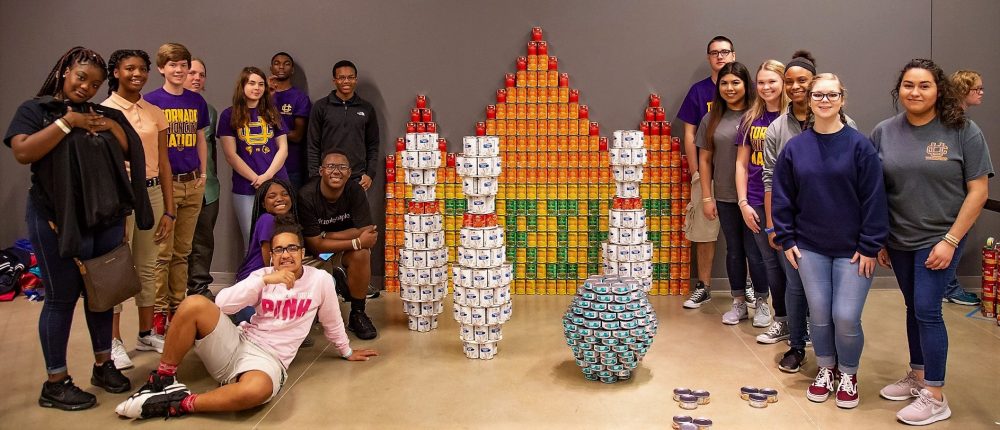 By Mike Hutchens, UC Schools Communications Director
Union City, Tenn.–Two groups of students at Union City High School showed "can-do" abilities and attitudes at the recently-held Canstruction Jr. event at Discovery Park of America.
UCHS had two teams to participate in the second annual event that challenges student-based teams to build sculptures out of cans and then donates the cans of food to three local charities.
One team of Union City students – made up of 16 members of the Art Club, Key Club and STEM Club and supervised by teachers Carolyn Nipp and Hilary Webb – was chosen as the winner of the Juror's Favorite Award for its theme of "Strike Out Hunger."
The other, a seven-person crew representing John Graham's Skills USA class, received honorable mention in the Best Use of Labels category in its entry "Cans of our Community."
"I really enjoyed seeing the students work with each other and form friendships and bond through this project," said Webb, who also works part-time at DPA as the Art Gallery chair and teaches all the art classes there. "They might have come from different circles, but they became a team and worked hard toward one goal.
"The best part was watching them problem-solve and gain confidence in their skills."
The competition focused on artistry and creativity of the students and teams, but also will ultimately benefit local charities – Helping Hand Ministries and Chimes for Charity of Obion County and We Care Ministries of Martin.
It's estimated that around 8,500 meals will be provided to those in need from the cans used in the competition.
Westan Insurance Group and Searcy Builder-Contractor Inc. sponsored the event, giving each of the teams which entered $500 to purchase cans of food and build their respective sculptures.
Teams had three hours to construct those sculptures and were allowed to practice several weeks beforehand. Only five team members at a time could work on the projects and nothing permanent could be used in construction – only tape, wire and quarter-inch wood.
"Our project centered around the students working on a structure to sculpt an ear of corn because Obion County is the biggest corn-producing county in the state," Graham said. "We were able to use some of the skills the students learn in our carpentry class to help with the project, and the teamwork that had everyone pull together was amazing."
Union City High School students have participated in the competition both years it has been held. Ten teams in all were involved this year.
All sculptures will be on display at DPA throughout the month of November and can be viewed in the Reelfoot Room for the regular price of admission.