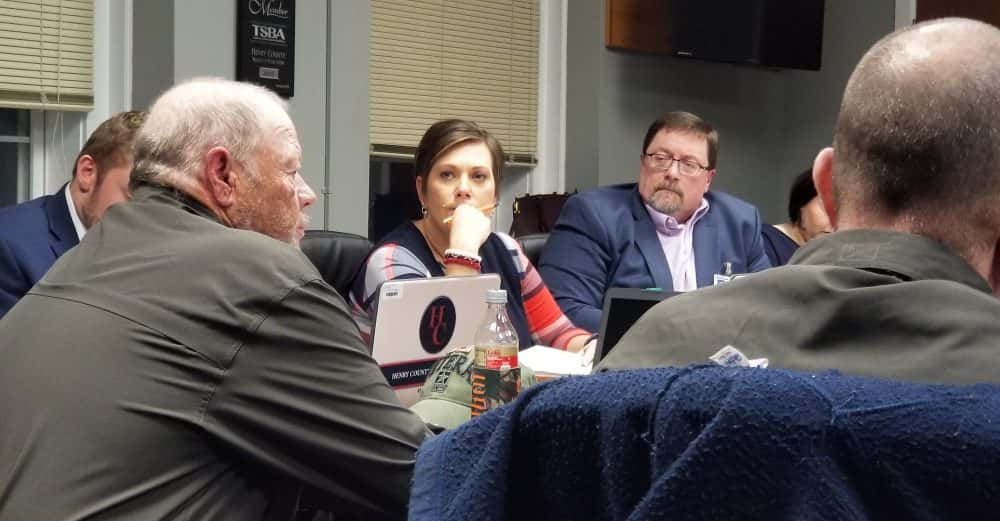 By Shannon McFarlin WENK/WTPR News Director
Paris, Tenn.—During discussion of ongoing contract negotiations with Director of Schools Dr. Brian Norton, three Henry Co. Schools board members voiced concerns with his job performance at Thursday night's meeting. Their concerns were addressed point by point by Dr. Norton.
Board President Jill Coker presented the proposed draft of the new contract with Director of Schools Dr. Brian Norton for discussion by board members. The contract will be acted upon at the February meeting.
County Attorney Rob Whitfield said the only material changes to the new contract are a cost of living compensation which Norton did not have in his contract and automobile allotment.
The discussion on Dr. Norton's performance was initiated by Rod Frey who said he wanted to remind the public that the board does not work for Dr. Norton, Dr. Norton works for the board.
He said decisions have been made in last four years which are not in the best interests of this school system, taxpayers, school children or the people of Henry Co. and "everybody knows what they are." Frey said, "I've had elected officials and local people call me, visit me and I have to say, you have disrespected some of our elected officials and that makes this board look bad when we let that happen."
Frey said Norton didn't show up to meetings with the PSSD board to plan the school calendar, said not all coaches had input in the ongoing renovations "and stuff was deleted and added without board approval and that's unacceptable". He said a non-faculty person was hired as a basketball coach "and that not doing your best for your school system".
He said improvements to fields weren't handled soon enough and "things don't happen until it's been requested three or four times" and he objected to the way the soccer program situation was handled. "When you act on info given to you and it's false information and you make no effort to determine if it's right then what you do is wrong and that's the soccer I'm talking about."
Frey also said not enough is being done for the safety of the children, including cameras and panic buttons.
Board Member Josh Frey noted that district graduation rates are declining and that according to the Tennessee State Report Card, the district is steadily declining in academics. "I encourage all of the board members to look that up online," Josh Frey said. "Kudos to Henry School. They've made great strides. My question is, are we putting the right people in the right positions to get where we need to get?" For instance, he said, Lakewood Elementary scores are good, but Lakewood Middle School scores "are drastically declining."
Board President Jill Coker said she also is concerned with the graduation rates "and we need to look at ways to improve. We need to look at the elementary level and having the right people in the right positions to make that happen. Our ACT scores are not improving like they should." She also said she has concerns with communication problems with Dr. Norton.
Dr. Norton pointed out that PSSD did not request a meeting on the school calendar; that there have been no changes to the renovation program except those brought to the last board meeting by the building committee.
He said the information on no cameras or panic buttons was inaccurate. "Grove cameras are fully in place; Lakewood is fully in place, they're working on the ones at Henry, then will move to Harrelson and then wait on the high school renovation to put those in place." Panic buttons were placed in the schools at the beginning of the school year.
Dr. Norton said, "I said to you the day we cancelled soccer that we should have talked about it more and since then we've remedied it."
Declining graduation rates have been discussed as a concern, he said. "We didn't hide that we are concerned. We still are above state average, but we don't want to go backward, ever." Dr. Norton said improving communication is one of his top goals. "I don't want to inundate you with everything, but I'm always available to hear your concerns and try to respond to them."
Dr. Norton said he was excited the board members are looking at the state report card website to compare data.
"At the end of the day, you five people have to pick the best person for the job and I'll pray for the five of you as you do that," he said.
Board Member Tom Beasley reminded board members a lot the academic concerns relate to state requirement changes.
In other business:
–Larry Raymer of Paris objected to the rules governing phone use in the schools. He said he believes the rule should state that when phones are taken away from students for infractions, it should be for five school days, not five days in general. He said taking away a student's phone for five days including the weekend days causes a hardship on the student's family as well.
–District Maintenance Supervisor John Akers reported on the progress of the district's various projects.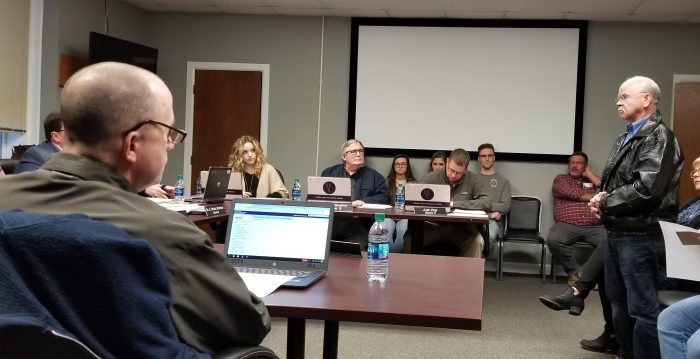 Citizen Larry Raymer addresses the board.
Top photo: Board Member Rod Frey, left, voices concerns about the job performance of Director Dr. Brian Norton, at right.
Photos by Shannon McFarlin