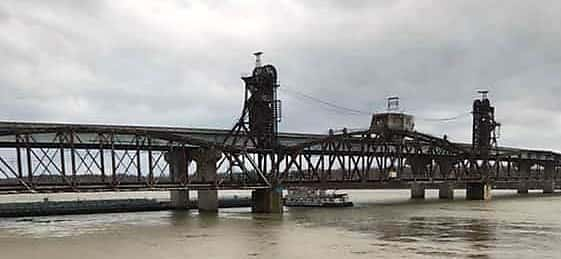 UPDATE: The New Johnsonville Police Department announced around 10:30 a.m. that the bridge has been reopened.
By Shannon McFarlin WENK/WTPR News Director
Benton County, Tenn.—The 1-70 bridge at New Johnsonville that connects Benton and Humphreys Counties is closed until further notice while inspectors with TDOT and the Coast Guard evaluate damage caused when a barge bumped into it.
Benton County Sheriff Kenny Christopher told WENK/WTPR that he received a call around 5:45 a.m. this morning informing it of the barge accident. He said it was caused by high winds and high water at the bridge.
"The sheriff's office, TDOT and the Tennessee Highway Patrol—all of us have the bridge shut down right now," he said. "The inspectors are there right now looking it over."
Other barges are lined up in a holding pattern waiting for the inspection to be made, he said.
The Coast Guard which is stationed at Paris Landing State Park also was called to the scene, he said.
Motorists wanting to come across the bridge will have a long way to go around, he said, by either the 70 bypass, 641 North or South, or Birdsong Road.
Photo by Damon Pierce.