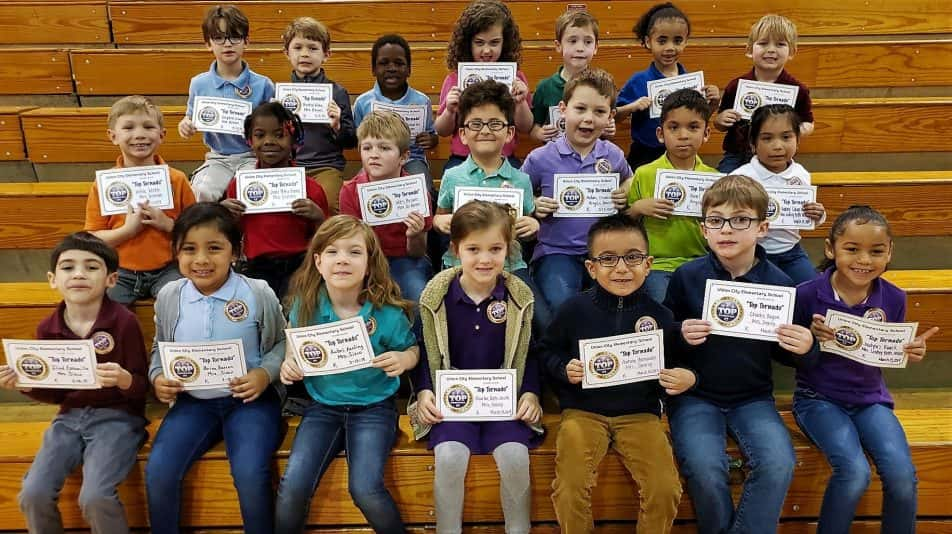 By Mike Hutchens, UC Schools Communications Director
Union City, Tenn.–Students from four different Union City Elementary School classes were honored by receiving the Top Tornado Award in ceremonies Wednesday morning.
The prestigious Top Tornado accolades are presented to chosen students in each PreK-2nd grade class roughly every nine weeks.
Students are selected for this award based on behavior, work ethic and kindness to others.
Among those to receive the honors were:
PRE-K
Front row, from left: Kylie Bobo, Aaron Nipp, Gabby Ware, Ja'viya Campbell.
Second row, from left: Konaa Jones, Karsyn Miller, Doris Williams, Jackson Williams.
KINDERGARTEN
Front row, from left: Iliad Escamilla, Briza Barron, Aubri Keeling, Charlie Beth Smith, Antonio Hernandez, Charlie Ragan, Jocelyn Ruark.
Second row, from left: Wade Webb, Jewel Pettie-Graves, Wes Brown, Deigo Rodriguez, Nolan Chiasson, Gael Vazquez, Vianey Cobon Martinez.
Third row, from left: Cayden Dues, Boston Riley, Keivon Martin, Sadie Roberson, Gavin Gibson, Chloe Lyon, Carson Gallimore.
FIRST GRADE
Front row, from left: Dexter Graham, Nancy Pina, Kailyn McBride, Anna Kate Fowlkes, Aaditya Rana, Ashlynn Busby, Ricky Pocernich.
Second row, from left: Jeremiah Mobbs, Kennedi Hilliard, Stella Pearl Graham, Felix Yeager, De'Traveon Adams,                Gabriel Pocernich, Derrick Avery.
Third row, from left: Peyton Huff, Logan Goree, Yaryiah Coleman, Hilaria Siquin-Soto, Emma Russell, Walker Gray, Hudson Reeves.
SECOND GRADE
Front row, from left: Summer Atkins, Cameron Pettie, Zane Oldaker, Pierson Virgin, Daylee Turner, Kipton Powers, Madix Turner.
Second row, from left: Blanca Pastor, Addisyn Kinyon, Mason St. Germain, Alessandro Rosas, Brooklyn Russell, Izabella Somerfield.
Third row, from left: Sophie Palmer, Maddie Steward, Caden LeCornu, Melissa Maldonado, Lucas Riley, Zaven Thompson.