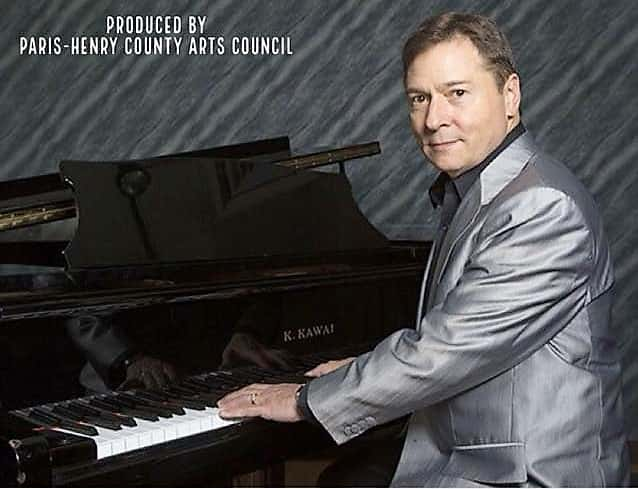 Paris, Tenn.—The Paris-Henry County Arts Council is announcing that Cabaret Performer Sammy Goldstein, a Paris native, is returning to the Krider Performing Arts Center for a concert at 7 p.m. Saturday, June 8.
Goldstein is a singer and pianist who keeps busy performing on cruise ships so whenever he can come home to perform, it's always a treat.
Goldstein will be backed up by the Paris-Henry County Community Band, under the direction of Mike Holden, performing a few numbers with Mr. Goldstein.
Tickets are $25 and availability will be announced shortly.
In other Arts Council News, the Young Artist Showcase awards ceremony and reception was held on February 17 at the Lee Academy for the Arts, with about 80 parents, family and supporters on hand at the reception. The artwork has been on display at the Lee Academy.
Meredith Vadja of the Arts Council said to produce the workshops and the showcase, the Arts Council is grateful for financial support through a grant from the TN Arts Commission and our local businesses' sponsorships: Mahan Ford, Foundation Bank, Dr. Elizabeth Craig at Paris Family Chiropractic, and Commercial Bank. Their contributions helped the Arts Council to pay for the teachers, all materials, and the classroom spaces so that any student could participate, she said.
April 10 is the deadline for entries in the Arts Council's 34th annual Artist Showcase. There are six categories in this judged show, with cash awards in each category and a $500 Best of Show award. The awards ceremony and opening reception, with the public welcome, is on Sunday, April 14, at Lee Academy.
If you wish to help with Arts Council programs, the address is 400 Lee St., Paris, TN, or P.O. Box 1045 in Paris, and the website is www.phcarts.com. Our office phone number is 642-3955