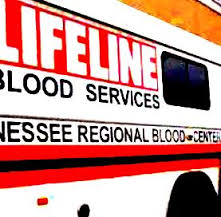 Two LIFELINE Blood Drives are happening in our area on Friday, April 19th, Good Friday.
LIFELINE Spokesperson Cherie Parker said, "The need for blood is constant and it is very important that we keep the blood supply adequate for all 19 hospitals and eight Air Evacs."
Paris: Lowe's, 2-6 p.m.
All donors get a t- shirt and the first 10 donors receive a coupon for a free 6" SUBWAY Sandwich
Hollow Rock: FirstBank, 1-5 p.m.
All donors get a t-shirt and may register to win:
*  a $20 Speer's Dairy Bar gift card,
* one of four Wendy's free combo meal coupons and
* one of 5 , $5. SUBWAY Gift Cards.