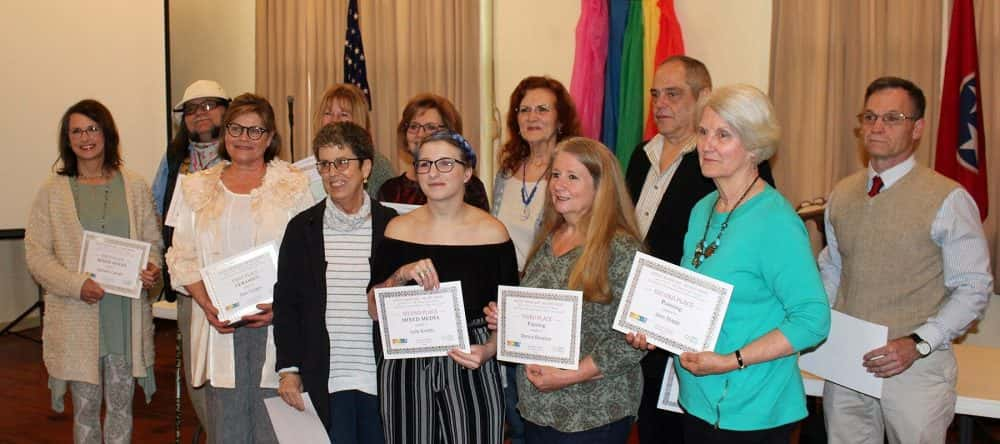 Paris, Tenn.–Winners of the 34th Artist Showcase Winners were announced at a reception Sunday afternoon. The showcase is sponsored by the Paris-Henry Co. Arts Council and will be on display at Lee Academy for the Arts in Paris through May 10.
Best of Show winner was Diane Miles.
Winners:
Sculpture: 1st Place La Changeme Kevin Mannis
Ceramics: 1St Place Fall Witch Hazel Leaf Spoon Rest Pam Conger
Fiber Arts: 1St Place Sun Flower Judith Putnam
2nd Place Beaded Basket Jane Baars
Mixed Media: 1st Place Song at the top of the trees Jennifer Carroll
2nd Place Day Dreaming in Pink Julie Knotts
3rd Place Nightmare Rex Daniel Ragsdale
Drawing: 1st Place Late Summer Sunshine Collette Wilde
2nd Place English Setter Collette Wilde
3rd Place Carmen Jones Tracy Eldin
Painting: 1st Place Crimson Woods Diane Miles
2nd Place The Back Yard Ann Stapp
3rd Place Groundhog Donna Revelee
Best of Show: Lake Front Diane Miles
Photo by Martin Paschall.