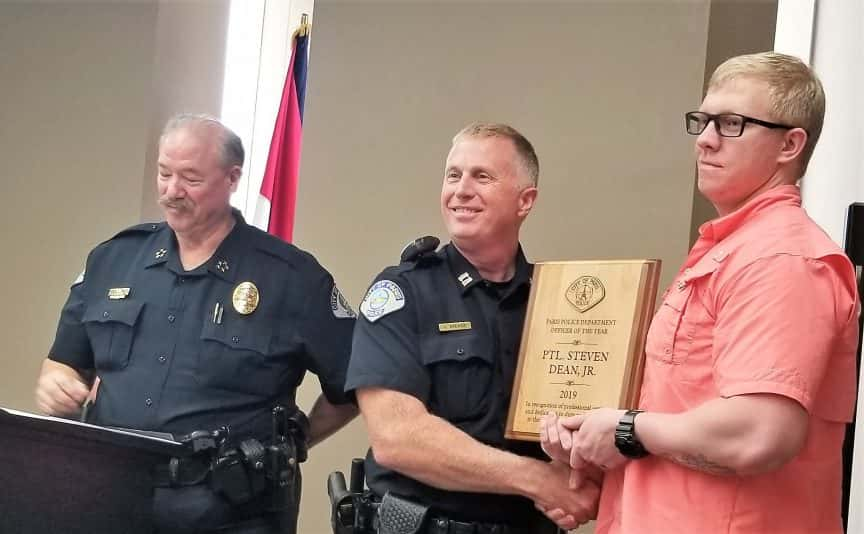 By Shannon McFarlin WENK/WTPR News Director
Paris, Tenn.—Paris Police Patrolman Steven Dean Jr. was named Officer of the Year and Dispatcher Heather Stone was named Dispatcher of the Year at the annual ceremony conducted by the Paris Police Department Wednesday morning. This is the second year that Stone has been named Dispatcher of the Year.
Police Chief Chuck Elizondo also announced promotions: Sgt. Derrek Colley, Sgt. Jordan Klutts, Cpl. Jeff Smith and Cpl. Amanda Forrest.
Each year, Chief Elizondo, Captain John Brewer and city officials conduct the ceremony during National Peace Officer's Memorial Week. The ceremonies are always combined with a communal lunch at City Hall.
Dean Jr. began working for the Paris Police Department in 2015 and is a member of the department's FAST team. He's young, but has had extensive background in law enforcement, having worked for the Carroll County Sheriff's Office, the Henry County Sheriff's Office and the local jail. And, he is the son of Henry County sheriff's Captain Steve Dean.
Elizondo noted that he was selected by his peers for the honor. He is married to wife Madison and they have two daughters, Aailah and Alaina.
Heather Stone began working for the city of Paris in 1999, beginning with the 911 business office and she would help in the dispatch center during emergencies and when they were short staffed.
Elizondo said the Emergency Dispatch Center was fortunate that Stone began working full-time in 2011 because "she is an asset to the dispatch team, bringing knowledge and experience from all levels."
She is married to David Stone and has two children, Sophie and Will Carter, and two step-daughters Crystal and April Stone, and a grandchild Reagan Summers.
In handing out the promotions, Chief Elizondo noted that Cpl. Smith has a total 17 years in law enforcement, with 11 in Paris, two at Stewart Co. Sheriff's Office, two at Dover PD and two at Clarksville PD; Cpl. Forrest has a total 12 years experience; Sgt. Colley has 11 years with the Paris PD, starting on the night shift and then moving to the Investigator's position; and Sgt. Klutts also has 11 years and is property and evidence officer, DARE officer and DARE mentor.
City Mayor Carlton Gerrell, Vice Mayor Jackie Jones and City Manager Kim Foster all told officers and dispatchers how much they are appreciated by the city. Jones said, "We want to thank all of you for what you do each and every day to keep us safe."