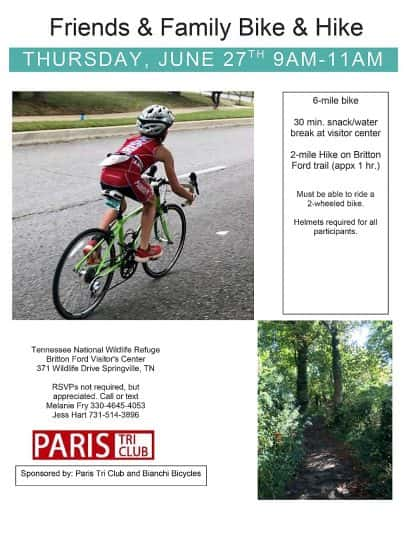 Paris, Tenn.–The Paris Tri Club will be hosting a Friends & Family Bike & Hike from 9 to 11 a.m. Thursday, June 27, and everyone is invited. They ask everyone to join them for a day of biking, hiking, sight seeing and more at the Britton Ford Visitor's center at the Tennessee National Wildlife Refuge in Springville.
Everyone will meet in the Welcome Center Parking Lot where you will have access to restrooms and water fountains. From there they will mount up and ride to the Refuge entrance and back past the Welcome Center to the main trail head. They will return to the Welcome Center for a pleasant rest on the back porch where you just might see an Osprey or even an Eagle.
After our break, they will load up the bikes and drive over to the trail head and will hike the two mile trail together while observing the trail and tree identification markers and more. It is recommended that you bring sunblock, bug spray, water, snacks and to wear close fitting shorts or pants when biking.
The day includes a six mile bike trip and two mile hike. Helmets are required.
For more information please contact Coach Jess Hart (731) 514-3896