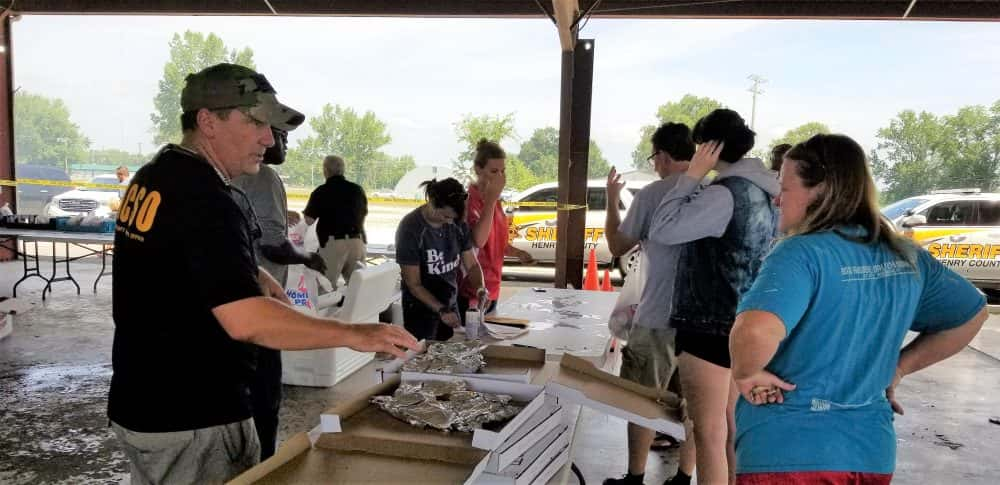 By Shannon McFarlin News Director
Paris, Tenn.—The Henry County Sheriff's Office and Tosh Farms raised a whopping $9,626 today at the benefit for fallen Nashville Metro Police Officer John Anderson. And more donations are still coming in.
Sheriff Monte Belew said the department will present the check at the Metro Police Department in Nashville on Monday. "We're going to go to roll call for Officer Anderson's shift and present it to his fellow officers," Belew said. The money was raised for Officer Anderson's 18-month-old child.
The sheriff's office and Tosh Farms held a benefit today at the Henry Co. Fairgrounds, grilling and selling sandwiches, chips and drinks and Belew said, "We are so thankful to the people of Henry County for all your pre-orders and your extra donations. We had people who gave more than the cost of the meals and some people who just brought money and didn't even get a sandwich."
Belew said, "We had no idea we would raise this much. We just couldn't believe it. And we really want to thank Tosh Farms. We could not have done it without them."
The check will be taken to Nashville "with love from the Volunteer County in the Volunteer State", Belew said.
Photo: Sheriff Monte Belew, left, waiting on the crowds of people at today's benefit. Photo by Shannon McFarlin