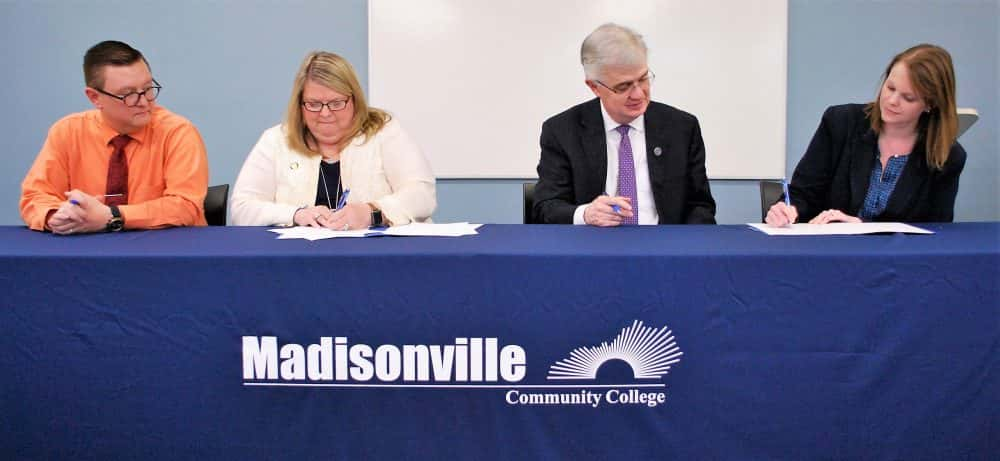 McKenzie, Tenn.— Bethel University Vice President Dr. Kimberly Martin
announced today that Bethel University has entered into a partnership with Madisonville
Community College (MCC). The partnership will allow MCC alumni to complete their bachelor's
degrees in Organizational Leadership, Criminal Justice, or Emergency Services Management at
Bethel University.
Bethel University will accept all credits from students' associate's degrees from MCC, permitting
students to build upon their previously held degree. Students who have completed an Associate
in Arts, Associate in Science, or Associate of Applied Science degree at MMC may enter Bethel
University with junior standing. Students will have the opportunity to complete their bachelor's
degree entirely online through Bethel's Virtual Campus.
Martin said, "We are excited to partner with Madisonville Community College to offer MCC
graduates the opportunity to complete a bachelor's degree at Bethel University while staying
close to home."
The online programs provided by Bethel University allow students to complete
their coursework from the comforts of home while still maintaining their daily responsibilities.
"Our 100 percent online degree programs are designed for working professionals, so we think
they will work well for MCC graduates who want to continue their education, but also need to
enter the workforce. We're looking forward to welcoming MCC alumni into the Bethel family,"
she said.
A one-time $500 scholarship is available to any MCC associate degree graduate with a 3.0 GPA
or higher who enrolls at Bethel University within three years of graduating from MCC.
Additionally, the application fee will be waived for any MCC applicant that completes all
admission paperwork within two weeks after submitting an application.
"Our university partnerships are nothing but a benefit to our students," said Madisonville
Community College President Dr. Cynthia Kelley. "When you have a good, meaningful online
program, students who are place-bound don't have to leave. Instead, they can transfer directly
into a school like Bethel and still be able to remain in one place. We at MCC can still support
them with the help of the faculty and staff at Bethel."
If you are interested in learning more about the programs available at Bethel University's
College of Professional Studies, contact Brittany Morgan at 731-407-7620 or
morganb@bethelu.edu